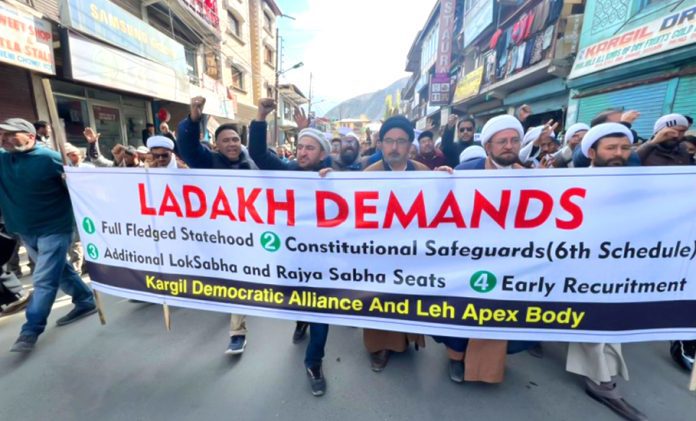 Beneath the tranquil visage that Ladakh presented to its unending stream of visitors there was, for a better part of the past few decades, an inert discontent waiting for that one jolt that would turn this latent anger into a juggernaut of ineluctable unrest.
Years of administrative neglect, betrayal by elected representatives and frustration over the incapacity of the political class in New Delhi, or even in Srinagar and Jammu, to grasp and acknowledge their aspirations had made many Ladakhis believe that a remedy for their problems lay in bifurcation from J&K. Being carved out as a separate Union Territory would finally give Ladakh's people autonomy over their fate, land and resources.
This, perhaps, is one reason for the jubilation that Ladakh, more specifically the district of Leh, witnessed in the immediate aftermath of the Narendra Modi government's decision of August 5, 2019 to read down Article 370 and, two months later, formalise the bifurcation of Ladakh from J&K – making the former a Union Territory without a legislature and the latter a Union Territory with one. However, that old cliché – be careful what you wish for – began playing out soon after.
The residents of Muslim-dominated Kargil were upset at their district being merged into the UT of Ladakh instead of continuing to be a part of J&K. Those in Buddhist-dominated Leh realised that a UT without a legislature would leave them at the mercy of bureaucrats and what little pressure they could exert on elected representatives in the past had now been neutralised. For a while, this division between Kargil and Leh worked to the BJP's advantage as it also prevented any demands for Ladakh's statehood, considering that neither district wanted the other to have greater political control over the region.
To continue reading this article...
You have to be a Premium Subscriber
Start your subscription with a free trial
Enjoy unlimited Eighth column, archives and games on
thefederal.com and many more features.
You will also be supporting ethical and unbiased journalism.
plans start from Rs. 149