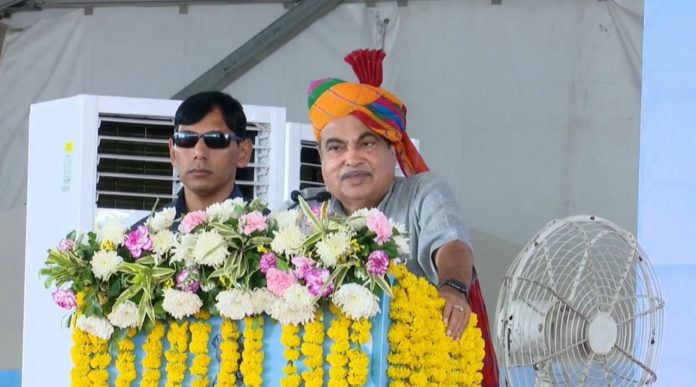 Roads in Rajasthan will resemble those of the United States by the end of 2024, making it a happy and prosperous state, Union Road Transport and Highways Minister Nitin Gadkari said on Monday.
The minister also said that it was the Central government's aim to make all villages happy and prosperous. He was addressing a gathering at a foundation stone-laying programme of development works at Pakka Sarna village in Hanumangarh district. He said former US president John F Kennedy had said: "America's roads are good not because America is rich. America is rich because of its good roads."
Also read: Delhi-Srinagar highway will increase tourist arrivals in J&K four-fold: Gadkari
Gadkari said: "I promise you that by the end of 2024, Rajasthan's roads will be made at par with those of America's. Due to these roads, Rajasthan will also become a happy and prosperous state." He said that when governments change, the society should also change.
राजस्थान में सड़क नेटवर्क को मजबुती देते हुए आज हनुमानगढ़ में 2050 करोड़ रुपए की लागत से 6 राष्ट्रीय राजमार्ग परियोजनाओं का एवं सेतुबंधन योजना के तहत 7 ROB का सांसद श्री @nihalchandindia जी, सांसद श्री @RahulKaswanMP जी, सांसद श्री @NarendraBJPRaj जी, पूर्व मंत्री श्री रामप्रताप… pic.twitter.com/artU5PH2xf

— Nitin Gadkari (@nitin_gadkari) May 22, 2023
Gadkari's dream
"There should be freedom from poverty, hunger and unemployment. The farms of the farmers should get water, youngsters should get employment, the country's imports should stop, exports should increase and farmers should become millionaires by becoming food providers and energy providers."
Gadkari inaugurated and laid the foundation stones of six national highway projects and seven railway overbridges under the Setu Bandhan project with a total cost of Rs 2,050 crore.
(With agency inputs)