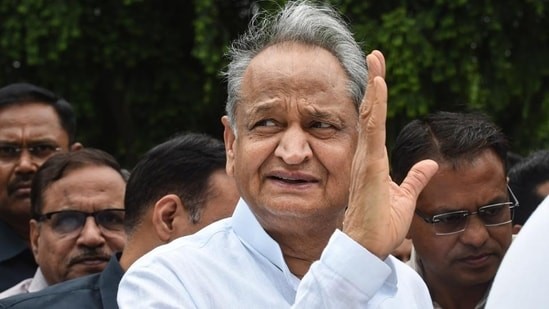 Rajasthan Cabinet approves formation of 19 new districts, 3 divisions in state
The Rajasthan Cabinet on Friday (August 4) approved the proposal of a high-level committee to carve out 19 new districts and three new divisions in the state.
With the latest decision, the state's district count will now go up to 50 from the existing 33, Additional Chief Secretary (Revenue) Aparna Arora.
The new districts will be notified shortly, she said.
As part of the latest changes, the Jaipur district has been divided into Jaipur and Jaipur Rural, and Jodhpur district into Jodhpur and Jodhpur Rural. The other new districts are Apoongarh, Balotra, Beawar, Deeg, Didwana-Kuchaman, Dudu, Gangapur City, Kekri, Kotputli-Behror, Khairthal-Tijara, Neem ka Thana, Phalodi, Slumber, Sanchore and Shahpura.
The number of divisions in the state will now be 10. The new divisions are Banswara, Pali and Sikar.
Also read: In election year, Rajasthan to create 19 new districts
Chief Minister Ashok Gehlot had announced in the assembly the formation of 19 new districts and three divisions in March. He had said a high-level committee had been formed to study the formation of new districts and the state government has received a report.
After the Cabinet meeting, the chief minister told reporters that ministers in charge of the new districts will do a formal launch on August 7.
New districts will improve governance: Gehlot
The formation of new districts will improve governance and bring relief to people who have to cover long distances to go to district headquarters for various works, he said.
Gehlot also said that it was another step of the state government towards delivering good governance.
The tenure of the high-level committee has been extended for a period of six months so that people can send their suggestions to it, he said.
Chief Secretary Usha Sharma said smaller districts will better governance, delivery of services, and law and order.
She said it is difficult for a collector to visit every tehsils in a district due to workload and long distances. Smaller districts not only make governance easier but people also get relief as they do not have to travel long distances for works related to the government, the chief secretary said.
The high-level committee chaired by retired IAS officer Ramlubhaya was formed in March last year to give recommendations about the formation of new districts.
Based on the interim report of the committee, Gehlot on March 17 this year made an announcement of the 19 new districts and the three new divisions.
After the announcement, representations were received from people, public representatives and various organisations regarding the demarcation of the boundaries of the new districts.
The state also witnessed demonstrations over the formation of the districts.
The representations were forwarded to the committee for re-examining the boundaries of the proposed districts.
After examining the representations, the committee submitted its report to the state government on August 2, which was approved in the Cabinet meeting on Friday.
(With inputs from agencies)