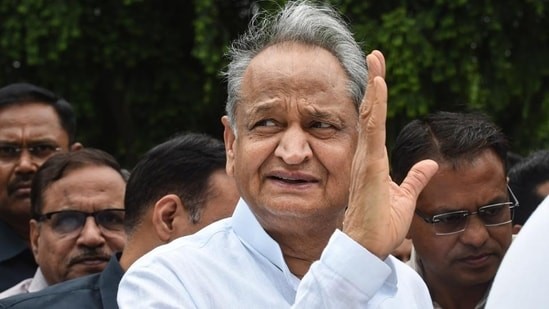 Prime Minister Narendra Modi on Wednesday made on oblique reference to the Congress crisis in Rajasthan when he thanked chief minister Ashok Gehlot for attending the launch in Jaipur of a Vande Bharat Express.
Flagging off the state's first Vande Bharat train virtually, the prime minister referred to Gehlot as a "friend" and thanked him for attending the launch even while facing a "political tussle" in the state.
Modi's obvious reference was to a one-day hunger strike launched by Congress leader Sachin Pilot, who does not see eye to eye with Gehlot.
"I express my special gratitude to Gehlotji. During these days of political struggle when he is going through several crises, he took out time for development work and participated in a railway programme. I welcome him," Modi said.
Pilot has accused Gehlot of "inaction" in alleged cases of corruption when the BJP ran the state.
Gehlot speaks
Earlier, during his address at the event, Gehlot raised demands related to the railways in Rajasthan and mentioned that for the first time since independence the Union railway minister was from the state.
Modi said: "The work that should have been done immediately after independence had not been done till now. But you have so much faith in me that you have given me that task today."
In remarks bound to raise eyebrows in the Congress, the prime minister told Gehlot that his trust in him gives strength to their "friendship". "I thank you for the trust you have in this friendship," he told the veteran Congress leader.
Modi added: "And I want to say Gehlotji that you have laddoos in both your hands… The railway minister is from Rajasthan and the chairman of the Railway Board is also from Rajasthan."
This is the second time in five months that Modi has "praised" Gehlot.
In November last year, when the two shared a dais in Banswara, Modi described Gehlot as the senior-most chief minister in the country. Pilot had then taken a dig at the chief minister over this.
Vaishnaw's remark
Railway Minister Ashwini Vaishnaw shared a clip of parts of the speeches of Modi and Gehlot. In the caption, he said even Gehlot knows that only Modi will get work done.
Reacting to this, the Rajasthan chief minister's Officer on Special Duty (OSD) Lokesh Sharma said when there is a BJP government at the Centre, it was Modi's responsibility to fulfil the state's demands.
The Vande Bharat launch function was organised at the Jaipur junction railway station.
The train service will start from April 13 and will operate between Ajmer and Delhi Cantonment with stops in Jaipur, Alwar and Gurgugram.
(With agency inputs)