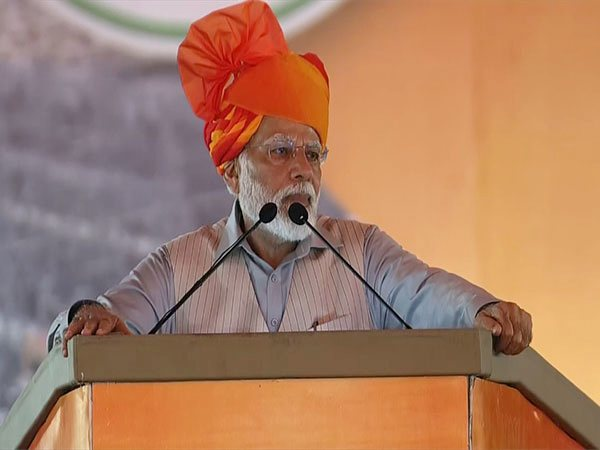 Congress means 'loot ki dukaan' and 'jhooth ka bazaar': PM Modi in Rajasthan
Accusing the Congress of indulging in corruption and deceit, Prime Minister Narendra Modi on Saturday dubbed the party as a "loot ki dukaan" and "jhooth ka bazaar" and said it is clear its government in Rajasthan is on its way out.
Addressing a rally in Bikaner, the prime minister alleged the Ashok Gehlot government has carved a new identity for itself when it comes to corruption, crime and politics of appeasement.
"In terms of crime against women, Rajasthan tops the list in rape cases. The situation is such that here the protectors are becoming the predators. The whole government here seems to be busy in saving rape and murder accused," Modi alleged.
The Congress government has done a lot of damage to Rajasthan in four years and its defeat in Rajasthan "is so certain that its government has already entered a bye-bye mode," he said.
Coming down heavily on the Congress, he said if it remains in power, it makes the country hollow and when it goes out of power, it defames the country by abusing it. "Their leaders go abroad and abuse India."
"There is only one meaning of the Congress… loot ki dukaan and jhooth ka bazaar," the prime minister said in an obvious jibe at Congress leader Rahul Gandhi's frequent remarks about his party opening "mohabbat ki dukaan" in "nafarat ka bazaar". Public anger against the Rajasthan government has risen, and when this happens it takes no time to unseat those in power, Modi said.
He said Rajasthan, the country's desert state where elections are due later this year, should have been at the top in the implementation of piped water project Jal Jeevan Mission, but today it is among the laggard states.
He also accused the state government of "misleading" people by announcing schemes and making promises as the election approaches.
"In all these tall promises, there is nothing but loot ke irade aur jhooth ka pitara (intention of loot and bundle of lies)," he said, adding the farmers of Rajasthan are the biggest victims of the Congress's "politics of lie and deceit".
"There is an old saying which means the lamp flickers the brightest when it is about to extinguish. The Congress is also doing the same as it fears its defeat. It has come down to misleading the people of Rajasthan," Modi said.
---
(Except for the headline, this story has not been edited by The Federal staff and is auto-published from a syndicated feed.)