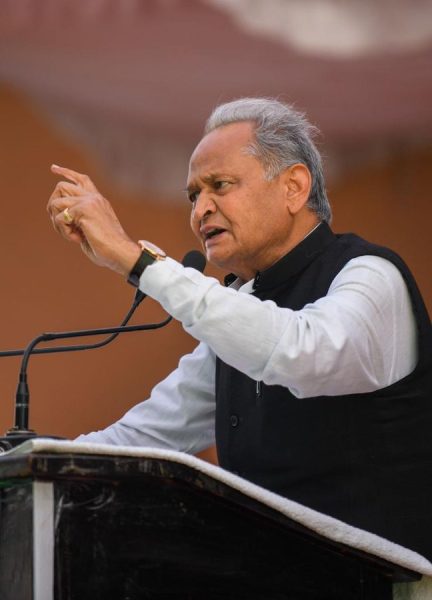 Rajasthan CM Ashok Gehlot in a file photo
As senior Congress Sachin Pilot began his daylong fast against his own party-led government in Rajasthan on Tuesday, Chief Minister Ashok Gehlot released a video portraying his vision to take the state to the top by 2030.
"I have decided that I have to make Rajasthan the top state by 2030. To realise this dream, the last four budgets and this years Bachat, Rahat and Badhat budget, I have made schemes no other state has," the chief minister was heard saying in the video.
राजस्थान के लोगों के लिए एक महत्वपूर्ण घोषणा।#महंगाई_राहत_कैंप

An important announcement for our people in Rajasthan.#MehngaiRahatCamp pic.twitter.com/DVYUKFD9tw

— Ashok Gehlot (@ashokgehlot51) April 11, 2023
Despite a warning issued to him by the Congress, Pilot, a former deputy chief minister of Rajasthan, began his daylong fast at the Shaheed Smarak here on Tuesday, demanding action in cases of alleged corruption related to the previous BJP government in the state led by Vasundhara Raje.
In his video, Gehlot was heard speaking about various schemes of his government, including the Chiranjeevi Health Insurance Scheme, subsidised LPG cylinders and accident insurance of Rs 10 lakh among others.
The chief minister said Rajasthan is not able to progress due to the rising inflation and the schemes of the state government are aimed at providing relief to the people.
He said a lot of work has to be done to make Mission 2030 successful.
"The first step towards the mission was this years Bachat, Rahat and Badhat Budget. Today, I am taking the next step. From April 24, thousands of inflation relief camps will be organised in the entire state so that people get the benefits of the state government schemes," Gehlot said.
He urged people to get themselves registered at the camps and avail the benefits of the schemes.
Gehlot and his former deputy Pilot have been at loggerheads since 2020 when the latter had revolted against Gehlots leadership, which led to a month-long political crisis that ended after assurance by the party leadership to look into the issues.
---
(Except for the headline, this story has not been edited by The Federal staff and is auto-published from a syndicated feed.)