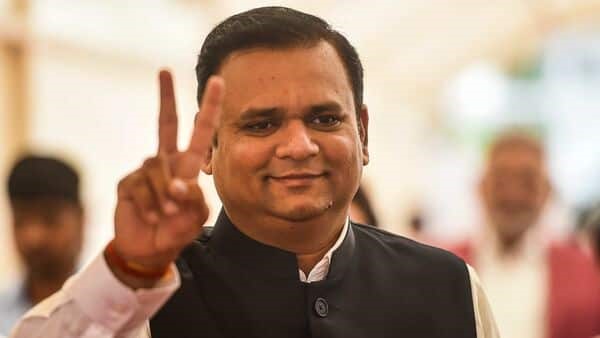 Maharashtra Legislative Assembly speaker Rahul Narwekar has said that after the Supreme Court's May 11 verdict he needs to recognise which faction of the Shiv Sena is the political party before taking a decision on appointing the next chief whip.
Earlier, Sunil Prabhu, chief whip of Shiv Sena when it was led by Uddhav Thackeray, had urged Deputy Speaker Narhari Zirwal to take action as per the apex court's judgment. "I will have to first recognise who represents the political party in the Assembly. Then the decision on the appointment of the chief whip will be taken," Narwekar said.
The petitions demanding the disqualification of MLAs are also pending with the Speaker.
"Their main contention is about not following the whip's order," Narwekar told reporters after returning from London.
In a recent verdict on the internal tussle in the Shiv Sena which led to the fall of Thackeray-led Maha Vikas Aghadi government in Maharashtra last year, the Supreme Court said it cannot reinstate the then chief minister Uddhav Thackeray as he chose to resign without facing the floor test. Refusing to disqualify the 16 rebel Shiv Sena MLAs, including Chief Minister Eknath Shinde, the top court said it cannot ordinarily adjudicate disqualification petitions under the anti-defection law and directed Speaker Narwekar to take a decision on the pending matter within a reasonable period.
"Here we have to take a decision with retrospective effect. For that, I need to conduct hearings with both sides and their representations," Narwekar said.
While these two Sena groups, one led by Shinde and the other by Thackeray, have contested elections as different entities, they are not separately recognised in the Assembly.
When asked about the Supreme Court terming Bharat Gogawale's appointment as Sena's chief whip by Shinde illegal, Narvekar said, "It is not permanently illegal. After following due procedure, Gogawale can still become the chief whip of the party."
Earlier on Tuesday, Sunil Prabhu, who was the chief whip of the Sena when it was led by Thackeray, submitted a memorandum to Deputy Speaker Zirwal seeking that action should be taken against the rebels following the Supreme Court verdict. Speaking to reporters after meeting Zirwal, Prabhu said, "We submitted a copy of the Supreme Court's decision to Zirwal and requested him to take action at the earliest. The copy of the judgment was given for their reference."
(With inputs from agencies)