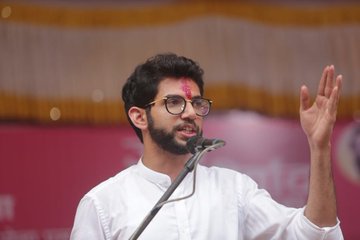 White collar to mass politics: Aaditya Thackeray comes of age
Despite the Shinde camp's resentment against him, the 32-year-old Yuva Sena chief has emerged as the face and voice of the Shiv Sena at a time when the party is battling the biggest crisis it has faced in more than three decades
Balasaheb Thackeray's grandson Aaditya Thackeray, 'heir' to the Shiv Sena and son of current Chief Minister Uddhav Thackeray, has never quite managed to establish himself as a powerful orator.
Aditya's "white-collar" attitude, pro-environment approaches, and interest in football didn't resonate with the common sainik, and his speeches — unlike his grandfather's — did little to entice, enrage, or inspire the rank and file of Shiv Sena.
But all of this seems to have changed over the past week, at a time when the party faces a mutiny like never before.
Larger role than before
Senior Shiv Sena leader Eknath Shinde's open rebellion against the party and its chief Uddhav has left the party's immediate political future in limbo and its Hindutva ideology being dubbed as contentious — at least in the eyes of Shinde and his 40+ rebel MLAs who have been camping in Guwahati since last Tuesday and are expected to arrive in Mumbai tomorrow for a floor test.
In the midst of the chaos that extends from the streets of Mumbai to the corridors of the Supreme Court, 32-year-old Aaditya seems to have been given a larger role in resuscitating his grandfather's legacy even as the current crisis worsens.
Also read: The discontent with Uddhav that drove Shinde and others to rebel
The Sena 'cub' has been holding back-to-back meetings with the party's rank and file—the common sainiks—on a daily basis since Friday, mobilizing them at rallies where he ripped into the rebel camp. His presence, both, on and off TV screens, seems to have marshaled people to come out of their homes and assemble at shakhas as a demonstration of their loyalty to the Thackeray bloodline.
On June 25, Aaditya addressed party workers at the Lala Lajpatrai Auditorium in Mumbai's Worli, the constituency that he contested and won in 2019. He was the first Thackeray to ever contest an election.
Back-to-back meetings
Lashing out at Shinde and his troops, Aaditya accused them of "enjoying" in Guwahati at a time when Assam has been hit by devastating floods. He accused them of "betraying" the party founded by his grandfather, adding that at least now the "dirt has gone out of Shiv Sena." "The road to Vidhan Bhavan from the airport goes via Worli," he warned the rebel camp while interacting with Shiv Sainiks.
Later in the day, Aaditya, along with other senior Shiv Sena leaders, addressed a gathering at the Birla Matushree hall.
On Sunday (June 26), he attended a similar meeting in Dahisar along with Sena MP Sanjay Raut and other leaders.
On Monday, the Yuva Sena chief left for Karjat (near Mumbai) for another meeting with party workers. Addressing the rebel MLAs, he challenged them to "resign and stand for election." On Tuesday, another public meeting of Shiv sainiks was held at Byculla and Dadar in Mumbai, where he addressed the cadre.
Fresh portfolios
Earlier, on June 27, an official statement from the party said that the portfolios of its rebel ministers were being handed over to other ministers for ease of administration. The Higher and Technical Education Department, which earlier belonged to rebel MLA Uday Samant, was reassigned to Aaditya.
"He has a very strong bond with the party's cadre…he is Balasaheb Thackeray's grandson and we support him wholeheartedly because he is always available to listen to our problems," said ex-Mumbai mayor Kishori Pednekar (Shiv Sena).
"Whatever they (rebels) are saying about him is false. Everyone has to wait (at Matoshree) if there is a meeting that is going on — even Rashmi (Thackeray)," said Pednekar, referring to some rebel MLAs' claim that the CM did not give them a patient hearing.
The limelight in which the Sena scion finds himself rapidly adapting to, comes despite the Shinde camp having alleged that Uddhav had been favoring his son's political growth. But what seems to have hurt the rebel leader's sentiments the most is that he, along with other MLAs, was allegedly called by Uddhav and requested not to travel to Ayodhya earlier this month — at a time when Aaditya was scheduled to visit.
Shinde alleged that some of them had even reached the airport, but turned around at the Chief Minister's behest.
Political growth
Uddhav has stood tall in his son's corner, defending him against the allegations, and from what we are seeing, given him a larger role in handling the current crisis. "Your son (Shrikant Shinde) can be an MP, but should Aaditya also not grow politically?" he asked.
With several municipal elections slated to be held in the coming months—including that of the much-coveted BMC—considered to be Sena's stronghold, Aaditya, wearing a saffron Sena scarf around his neck and flashing the "V" sign at loyalists during rallies, has asked the party cadre to focus on the upcoming elections, to contest them, and win.
It is an image that is bound to have a long-lasting impact on the neutral voter in Maharashtra, projecting the 'cub' as a tiger having come of age, rising to defend his grandfather's legacy.
Also read: Shiv Sena and BJP: How love turned to hatred in a saffron haze
"Those who run away never win," he told reporters earlier this week. "This is not Rajaneeti…it has become a circus. If they had to rebel, they could have done it here (in Mumbai) instead of running away. Look into my eyes and say what we have done wrong. We are in touch with some of the rebel MLAs and our communication lines are open with them. The ones we aren't in touch with will have to come back to Mumbai some time or the other…", Aaditya told party cadre at a meeting.