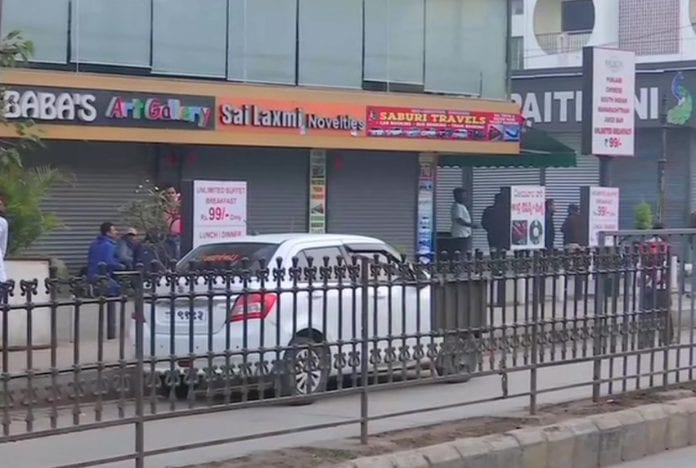 Shiv Sena MP Sadashiv Lokhande has announced the day-long bandh, which was observed in Shirdi on Sunday (January 19) following a row over the birthplace of Saibaba, will be called off after midnight. He made the announcement after a meeting with the locals on Sunday evening.
The Shirdi MP said Chief Minister Uddhav Thackeray has convened a meeting in Mumbai on Monday to discuss the issue. Representatives from Pathri and Shirdi, BJP MLA Radhakrishna Vikhe Patil, Lokhade and Shirdi temple trust CEO will attend the meeting called by the chief minister.
While commercial establishments remained shut in Shirdi in response to a call for bandh over Thackeray's decision to develop Pathri town in Parbhani as Saibaba's birthplace, the Saibaba Temple administration had decided to keep the temple remain open on Sunday to avoid causing inconvenience to devotees who throng the shrine in large numbers.
Also read: Shirdi eyes indefinite closure from Sunday after Uddhav's remarks
Chief executive officer of Shri Saibaba Sansthan Trust, Deepak Madukar Muglikar, said the temple will not be impacted by the closure of the city. While the bandh began from midnight, the temple and its kitchen remained open, allowing devotees to offer prayers and get 'prasad'.
While earlier, the administrative body of the trust has called for an indefinite closure of the temple from Sunday, it later decided to keep it open for devotees who had planned their visit ahead and made bookings in hotels for their visit accordingly.
District administration officials said, taxi services from the airport to the temple were unaffected and state transport buses from other locations were allowed to enter the town during the bandh.
An indefinite shutdown was called by residents and traders of the town after Thackeray announced an allocation of ₹100 crore for the development of facilities at 'Sai Janmasthan' at Pathri in Parbhani district. Locals took exception to the claim, and demanded the chief minister to withdraw his official statement.
Also read: Touching a cow drives away negativity, claims Maharashtra minister
During the New Year celebrations, around eight lakh devotees had thronged the shrine and the trust had earned around ₹16.93 crore from them. The temple also received 1.25 kg gold and 17 kg silver in offering.
Maharashtra minister Chhagan Bhujbal said the number of devotees visiting the Saibaba shrine in Shirdi took a hit on Sunday due to the bandh even as he called for peaceful resolution of the row over Saibaba's actual birthplace.
"When I enquired about today's footfall of devotees at Shirdi, I came to know that it dropped by 10,000. I also got to know that people cancelled their bookings at hotels in the temple town," the food and civil supplies minister told reporters.
(With inputs from agencies)