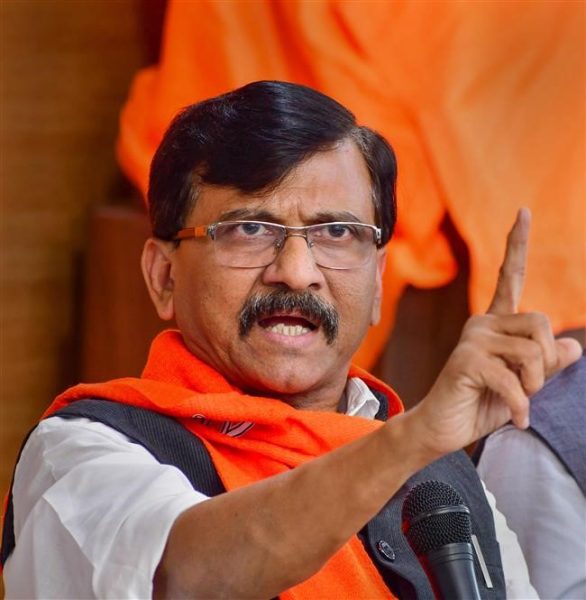 Shiv Sena (Uddhav Balasaheb Thackeray) leader Sanjay Raut on Tuesday (February 21) wrote to the police alleging a threat to his life from Maharashtra Chief Minister Eknath Shinde's son, with an MLA from the ruling party calling it a cheap stunt.
Responding to Raut's letter to the police, deputy chief minister Devendra Fadnavis, who also handles the home portfolio, said the Rajya Sabha MP had a habit of making thoughtless allegations, but nevertheless the missive would be sent to the authorities concerned for a review.
"Lok Sabha member Shrikant Shinde (Eknath Shinde's son) has given a supari (contract) to kill me to a Thane-based criminal Raja Thakur. I have confirmed information regarding the same. I am informing you as a responsible citizen," Raut said in his letter.
Also read: Sanjay Raut: We will fight it out and emerge victorious
The Sena (UBT) leader made the allegations in the letter to the Mumbai police commissioner, copies of which were also sent to Fadnavis and the Thane city police.
Responding to a question related to Raut's letter, Aaditya Thackeray, MLA and son of ex-CM Uddhav Thackeray, said, "The complaint should be taken seriously. Unfortunately, these traitor MLAs (from Shinde camp) are not being controlled at all. One MLA opened fire in Mahim area of Mumbai, but no action has been taken at all."
Raut trying to gain sympathy: Shinde camp 
Sanjay Shirsath, an MLA from the Shinde-led Shiv Sena, said, "Raut is doing a cheap stunt to gain sympathy. There is no doubt that there should be a thorough probe into the matter. However, do not forget that Raut does a lot of stunts which have no substance. I believe Dr Shrikant Shinde (Lok Sabha MP from Kalyan in Thane district) would never ever do such a thing. Still, a probe can be initiated," he said.
Asked about the letter, Fadnavis said, "Raut has been making mindless allegations and it makes us wonder what response we can give. Earlier, we used to respond to his allegations."
He said the Rajya Sabha MP was trying to seek sympathy.
"I think he is creating a sensation by levelling such allegations. He may think that he would get some sympathy out of it. But you do not get sympathy by making fake allegations," said the home minister.
Committee will decide on protection: Fadnavis
Asked about providing extra protection to Raut, Fadnavis said, "As per Supreme Court directives, a committee has been formed to provide protection to certain leaders. The committee decides whether to provide or enhance protection to a particular leader. The chief secretary of the state is the head of this committee and the panel will take cognizance of the letter."
Also read: Rs 2,000-cr deal to purchase Shiv Sena name and symbol, claims Sanjay Raut
Fadnavis took a swipe at Raut and said he made allegations just for publicity.
"He made allegations about a Rs 2,000 crore deal (after last Friday's EC ruling on Shiv Sena name and poll symbol). He does not have a single piece of evidence to back his allegations."
"Earlier, we used to give answers to his allegations but now he makes mindless allegations and the question remains what answer should be given to him," said the deputy chief minister.
(With agency inputs)