Joining the global movement demanding climate justice started by Greta Thunberg, several protests and rallies have been observed in Pune since September 20.
India Greens Party kicked off climate action week in Pune with a protest on September 20, followed by a Fridays for Future march on Saturday (September 21), and another rally organised by local NGOs on Sunday (September 22).
Slogans raised in Hindi, Marathi and English all demanded climate justice. Over a thousand students and professionals took to the streets on September 21, chanting slogans such as "What do we want? Climate Action. When do we want it? Now!" and "People united will never be defeated."
Also watch: Greta Thunberg raps World leaders over climate change
Upcycled cardboard placards ranged from serious and sarcastic to humorous. Some of these included: "Climate is changing. Why aren't we?" and "Make love, not CO2" and "It's so bad, introverts are here."
Connecting the larger issue of global warming to local concerns, Pune's young demanded attention towards several local issues.
Some spoke about the Amazon forest fires and global warming, and a majority of the strikers concurred that climate action needs both a top-down and a bottom-up approach; individuals as well as organisations and governments must be held accountable to secure future generations.
"Save Aarey forest"
"Just protecting Aarey will probably not save the world but every little issue is a drop in the ocean, and Aarey is a very big drop that needs to be addressed so that eventually the ocean is not so polluted," said Aniket Kulkarni, member of the India Greens Party.
Kulkarni, a DJ and managing director of a football services company, said, "If we lose the Aarey battle, it sets a precedent for the government to continue destroying green spaces over and over. If we demand climate justice and put our foot down now, it will send a strong message to the government that it needs to listen to the people before making decisions that will affect our future."
Also watch: Aarey, the country's only urban forest to be axed!
"No pollution, only solutions"
Over 20 students of Kimaya Classes, tuition classes for class 7-11 students, joined the climate action march organised by local NGOs Tellus Organization, Dhyas Pratisthan, and Jaaneev Jagrut Foundation to raise awareness about pollution last Sunday.
"We want everyone to reduce pollution and plastic use and to plant more trees," said Shweta Hiranwale, a class 10 student.
"We want our rivers to be clean; people should stop throwing garbage into rivers," stated Pranali Hiranwale, class 7 student.
"If we don't act now, soon our earth will be destroyed," warned Samruddhi Ogale, a class 10 student.
Also read: Students seek Bear Grylls' help for 'Save Aarey Trees' campaign
"Stop deforestation"
Renuka Dhokare, a student from Sangamner studying in Pune and a volunteer with Lokayat (a group of social activists based in Pune), carried a bottled plant on her back connected to an oxygen mask to demonstrate the importance of trees in our lives.
Pooja Rathore, an animal rights activist, raised her voice against animal agriculture which leads to deforestation and increases greenhouse emissions.
"Water and air pollution are rampant but so far we have been hoping that someone else will find solutions to these issues. We now need to question our choices and demand that our future is not destroyed by those with vested interests," she declared.
"Increase infrastructure for public transport"
Uday Deshmukh said that Pune has only 1,300 public buses for a population of 35 lakh.
"The systems are designed to make private transport more conducive than public transport. This leads to 4,000 new private vehicles being added to the traffic daily," he noted.
Deshmukh said we are destroying the earth to cater to the selfish needs of a few people, and stressed that we need to demand that our governments take a stand against corporations.
Aniket Kulkarni said he believes that a developed country is not one where the poor have cars but it's where the rich travel by public transport. "We need to create systems where buses are clean and convenient to use. Right now, not many people use the bus transport system in Pune," he shared.
Also read: Pune protests against destruction of green spaces in name of development
"Demand climate justice now"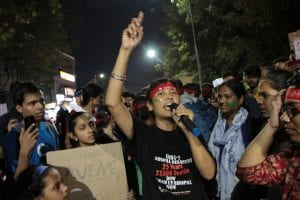 Ira Deulgaonkar, a student from Latur city in the Marathwada region who is currently studying at Symbiosis School of Economics, spoke about how climate change has already begun to ravage the Marathwada region.
"The marginalised are the most affected. The economically well off can get by as of now," she said.
Deulgaonkar has studied the effects of drought on single women in Anadur village in Osmanabad district where she says drought has reduced employment opportunities. "Single women are the worst affected; they have to walk for miles daily to get drinking water," she shared.
The solution to this crisis, she said, is that individuals in urban areas must think about their consumption, and the state should prioritise reducing carbon emissions through innovative ways.
"Existing pollution should be curbed right away," demanded Uday Deshmukh.
Aniket Kulkarni mooted that switching to renewable energy could make public transport sustainable.
"This is not a one-day rally. We will continue to march every Friday until our demands are fulfilled and concrete action is taken to reduce carbon emissions and improve public transport," said Deulgaonkar. "I also urge all citizens to join this movement to help stop the degradation of the environment and secure our futures," she said.