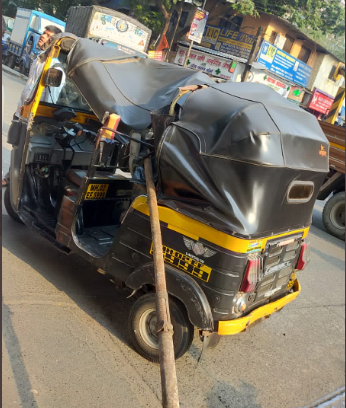 A 28-year-old woman and a nine-year-old girl died after an iron rod from an under-construction building fell on them while they were travelling in an auto-rickshaw in suburban Jogeshwari on Saturday (March 12) evening.
According to an official of the Brihanmumbai Municipal Corporation (BMC), the incident took place near Shalyak Hospital on the Western Express Highway around 5.45 pm.
The under-construction building from where the rod fell was a Slum Rehabilitation Authority (SRA) project.
The tragedy followed the death of two persons in Worli area last month after being hit by a cement block which came crashing down from a building under construction.
In the latest incident, the iron rod reportedly fell from the seventh floor of the scaffolding of the 14-storey building. Shama Bano Asif Shaikh (28) and Ayat Asif Shaikh (9) were injured as it hit the rickshaw in which they were travelling. They were first rushed to a nearby trauma care hospital after a passer-by alerted the civic helpline, the official said.
Also read: Maha: 250 families in 5 buildings vacated after slabs loosen, pillar develop cracks
The woman was declared dead by doctors at the hospital while the girl was rushed to Kokilaben Hospital in Andheri, where she was pronounced dead.
Notably, on Thursday, the Bombay High Court had asked the BMC to formulate safety guidelines for the use of cranes in construction of high-rises. A division bench of Justices G S Kulkarni and R N Laddha in its order noted that it was high time the BMC gave special attention to the safety requirements at construction sites.
On February 14, a large cement block came crashing down from the 52nd floor of the under-construction Four Seasons Private Residences project at Worli in central Mumbai, killing two persons standing outside the premises. The high court order came on a petition filed by nearby residents alleging lack of proper care by the developer.
"We firmly believe that a right of a person to move freely, in places which are not actual construction sites, if threatened by a fear of being killed or hurt, this would certainly amount to violation of one's fundamental right to livelihood, guaranteed under Article 21 of the Constitution," the court ruled.
(With inputs from agencies)