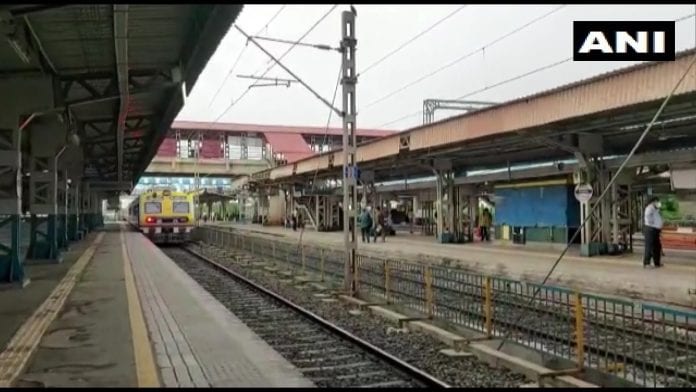 The western railway has resumed the selected suburban services in Mumbai from Monday (June 15).
According to the railways, this service is available only for movement of essential staff as identified by state government.
Taking to Twitter, the WR requested passengers not to rush to the stations and follow medical and social protocols as mandated for COVID-19. The e-pass is likely to have a QR code that will be scanned at the entry point.
Advertisement
Maharashtra: A local train leaves from Nallasopara railway station. Western Railway has resumed their selected suburban services from today only for movement of essential staff as identified by the state government. pic.twitter.com/sazlrYvPZi

— ANI (@ANI) June 15, 2020
The trains will run from 5:30 am to 11:30 pm with an interval of 15 minutes. "Maximum services will run between Churchgate and Virar, but few will also run up to Dahanu Road," the railways said. The tickets will be issued directly to people who are allowed to travel.
Similarly, people who travel should also bring their identity cards to show their services fall under the essential services category. The railway has asked the state government to stagger the office timings of their employees to ensure there is no crowding at the stations.
Selected suburban services resumed today mrng, over Western & Central Railway for essential staff of State Government only. All Booking Offices Opened at all stopping stations. These special suburban services will not be available for general passengers/public. pic.twitter.com/UMmC83rLIi

— Western Railway (@WesternRly) June 15, 2020
Mumbai's local train services were suspended in March after the outbreak of COVID-19 in the country.
Reports claim that around 1.25 people engaged in essential services are likely to travel in the trains. Those who have seasonal passes to travel in local trains can use them even if they have expired as their validity has been extended equivalent to the number of travel days lost due to the lockdown.
To ensure social distancing, a train that can carry 1,200 passengers will take only 700. Essential employees will have to undergo a two-level check of railway tickets at stations. The first check will be conducted by railway personnel before entering the station and the second will be done through QR code scanning.
Railways minister Piyush Goyal said, "In another landmark step in our fight against COVID-19, Railways resumes selected local train services in Mumbai from today, strictly for essential staff as recognised by the State Govt."