At a time when coronavirus has made visiting clinics and hospitals for general treatments impossible, a Pune-based NGO has come forward to provide door-to-door medical services to the poor and people stranded amid lockdown in Maharashtra.
Currently, 26 mobile dispensary vans, funded by the Force Motors CSR wing and run by Bhartiya Jain Sanghatana, are operational in seven districts across the country, treating thousands of patients.
Following the clinics and public health centers being non-operational due to the lockdown situation, these mobile dispensary vans have come to the rescue – like an Out-Patient Department (OPD) on wheels.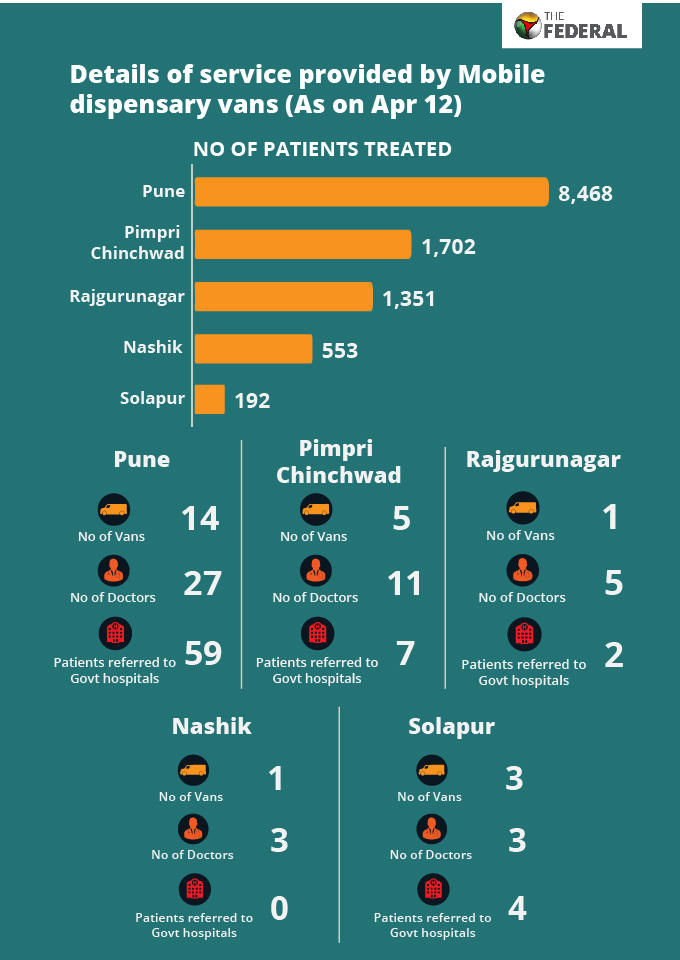 These vans are equipped with all the basic and emergency medical equipment and medications that any normal OPD at a hospital would have.
Shashikant Munot, project coordinator of Mobile Dispensary Seva said, "His (founder of NGO Shantilal Mutha) aim behind starting this service was to provide medical assistance to those in need."
"Even today people are suffering from many small ailments where they need doctor's assistance but are unable to get it due to the ongoing crisis. We provide that facility by means of these vans," he said.
The project, which began with 11 such mobile dispensaries in Pune on April 1, has now extended its services to adjoining twin-city Pimpri-Chinchwad with an addition of five more vans to the fleet.
In Maharashtra, currently, the service is operational in five cities – Pune, PCMC, Rajgurunagar, Solapur, and Nashik – also being extended to Bijapur in Karnataka and Erode in Tamil Nadu.
"We work in tandem with the local authorities. We usually provide the van with assistant personnel while we ask the local municipality to provide us the doctor. As of now, we have not been denied for the same," Munot told The Federal.
A few doctors have also voluntarily joined the service in their respective towns, he added.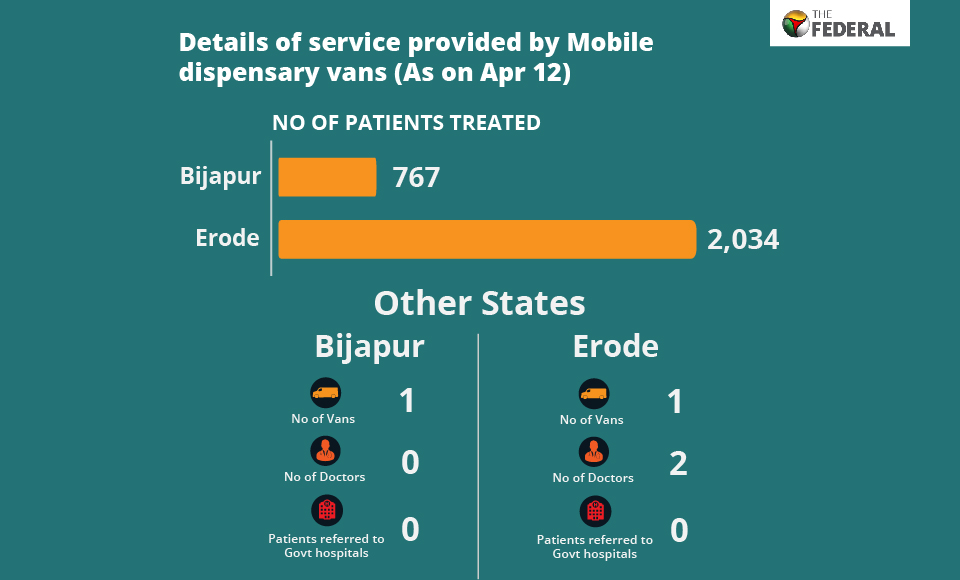 Dr. Anup Gandhi, who is working with one of these vans said, "I have been working with these vans for the last ten days. We are consulting around 200 patients every day. Along with that, we are also screening suspected corona patients on the go."
"If we observe any such symptoms, we note the contact number of the person and take follow up of his health for the next three days. If he/she does not recover then we refer them to the government hospital," he added.
Dr. Gandhi feels that these are the times when one should give his best efforts and do something for society.
"These screenings will help government authorities to know which areas are safe and which are in probable danger," he added.
A few ambulances have been used while in some places we have converted school buses into dispensaries and plan on extending it to all districts and beyond, Munot said.
How does it work?
A mobile dispensary van is taken to a select locality and stationed in a public space, with an announcer roaming around that area to spread information about the medical van's location and timings for people to visit and consult the doctor to get basic medications as per their requirements.
A patient can also call on a given number and ask for the van to provide service in a specific area, followed by the van with an onboard doctor and basic medications and equipment reaching the spot for further assistance.
"Apart from basic checkups and consultations, we also refer the patients to the government hospital if we find any COVID-19 like symptoms. All the precautionary measures like social distancing and hand hygiene are strictly followed by all the staffers," a worker in the van told The Federal.
As of now, the service has referred around 72 such patients to the different government hospitals in four cities.