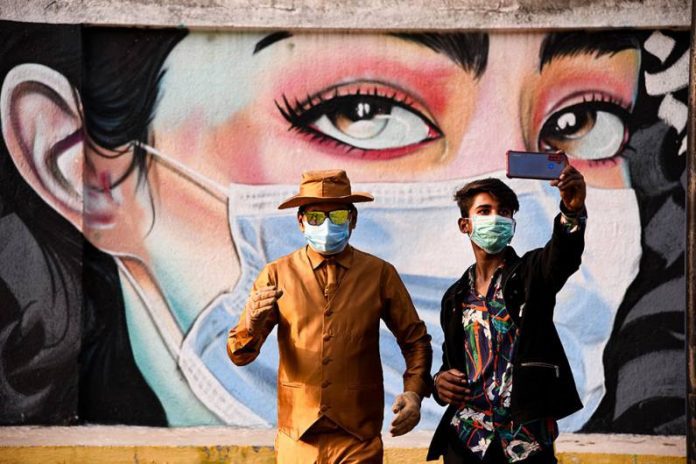 The Maharashtra government's decision to rescind all COVID restrictions — including the mandatory wearing of masks — from April 2 onwards, has left medical experts feeling torn between their civic and medical opinion.
While some medical practitioners feel that not levying fines on people who aren't wearing masks in public will send out a wrong message to the common man i.e., that the coronavirus doesn't exist anymore, others say that withdrawing the Epidemic Diseases Act, 1897, and Disaster Management Act, 2005, makes sense to a certain extent, but citizens must at least continue to follow appropriate COVID behaviour — the most important of which is to mask up.
Even though case numbers in India are at an all-time low, other countries such as China, as well as parts of Europe, are currently seeing a surge in the number of COVID cases, courtesy of the new BA.2 variant, which makes the overnight lifting of curbs by Maharashtra, West Bengal, and Delhi, slightly paradoxical.
Festival weekend
April 2, the date from when all COVID restrictions will be lifted in Maharashtra, also marks the festival of Gudi Padwa, the New Year for Marathi and Konkani Hindus.
A day before the Maharashtra government's announcement that it would withdraw all COVID-related curbs, Maharashtra Health Minister Rajesh Tope stressed the importance of people following COVID appropriate behaviour.
Also read: All COVID curbs to be lifted in Maharashtra from Apr 2; no mask compulsion
"We have to be on alert as there is a surge in COVID cases in Europe, China, and other countries," Tope said.
"Till now we have seen the impact of the third wave. We can't even think of removing the mask. In case we find any change, appropriate changes will be done by Chief Minister Uddhav Thackeray. We will have to follow COVID-appropriate behaviour. There are relaxations given, it's not as strict as earlier. But we will have to wear masks."
A day later, on Thursday, the Maharashtra government, after consulting with the state's task force as well as medical experts at the state and central level, announced its decision to withdraw all COVID restrictions. Going forward, gyms, marriage functions, funerals, and restaurants will be free from any restrictions and will be able to operate at their full capacity.
No room for complacency
Speaking with The Federal, Dr Suneela Garg, member of India's COVID India Task Force of Lancet Commission, said: "From a public health perspective, the message that we are sending out (by rescinding COVID norms overnight) is not right. Our testing needs to go on and we need to remain vigilant with our genome sequencing because the virus has not gone out. My message to the community is that we shouldn't become complacent and must continue wearing masks."
Dr. Garg further said that people in power who take these decisions of rescinding the curbs should discuss and consult with different medical professional associations for their opinion, before doing so. "It is important to not do a blanket lifting of curbs. We have to be cautious. Even if we do lift the Disaster Management Act…but if we lift the rule of the public wearing mandatory masks in public, then the message that goes out to the common man is that the virus has gone out of our lives. And that isn't the case."
She further said that India is still clocking a 0.22 per cent positivity rate and as of yesterday, the country recorded 1,322 cases. 17 were recorded in Noida alone. "What is important to remember is that even though the pandemic has become an endemic now, our Indian public comes from very different and diverse backgrounds: on one hand we've got very rich people and on the other hand, people who are very poor—but the message to the public is that go completely carefree—even though we do have cases that are coming in."
Also read: What after Omicron?: New COVID variant inevitable, say scientists
"The abrupt lifting of these covid appropriate behaviours doesn't send a good message from a public health perspective to a country like India because we are very diverse. With great difficulty, we have been able to bring in the sense of sanitisation, masking, and hygiene in general, but if we don't take care of these things…the message that is being sent out is not correct. We don't lose anything by wearing a mask. wear mask. It's a good measure for preventing other communicable diseases as well," she said.
Continuous protection
Dr Garg added that while the cumulative case count is nothing like before, abruptly lifting all COVID curbs overnight may do more harm than good. "If we keep wearing a mask, it will also save us from a large chunk of communicable diseases as well. A mask protects children as well as adults against other harmful things such as air pollution as well," she pointed out. "We are still suffering from multi-drug-resistant tuberculosis, which is a big chunk…we have to eliminate it by 2025 since it is a deadly disease. Our percentage of tuberculosis has gone up during the COVID period."
"The biggest danger of lifting curbs overnight is that behaviour change is difficult to implement. With great difficulty, we've got people to come to terms with COVID-appropriate behaviour. If we lift curbs suddenly, then people will become carefree…and they will end up compromising on hygiene as well. Delhi has had a 3 per cent rise in tuberculosis infections. Masking is good and maintaining personal hygiene is also good. At the same time, keeping in mind that people are starting work at their office once again in full capacity, they should all the more follow distancing norms. The systems which we have worked so hard to create should not be brought down overnight," Dr Garg said.
Hybrid immunity
Having said that, Garg also pointed out that there is a kind of hybrid immunity that India enjoys at the moment. "This is because of double vaccination and also the natural immunity that has been developed by the Indian public due to large-scale infections," she said. "We still need to remain cautious."
Mumbai-based Dr Kusum Mehta said that revoking all COVID curbs makes sense to a certain extent since the total case count in the state is very low. "There has been no casualty in many days," she said. "As far as I'm concerned, my point of view (as a citizen) is that the removing of curbs is OK — from a medical perspective, the wearing of masks should be kept mandatory."
When asked if the larger message going out to the public is that the coronavirus has ceased to exist, Dr Mehta said: "We are just saying what we have always said: that the coronavirus is here to stay and we have to live side-by-side. But in Maharashtra, almost 80 per cent of people have completed their double dose vaccinations, hence the chances of infections spreading are very less."
Dr Mehta added: "As a citizen, I am sort of happy, but as a doctor, I am sceptical. There are few curbs that shouldn't be lifted. Wearing a mask is the most important."
Dr Pramod Nagarkar, medical superintendent at the Balasaheb Thackeray Trauma Centre, said: "There are two things that need to be remembered. During the second and third waves, people had developed a good immunity, and the virus, which is at present rampant in other counties, has not yet been recorded anywhere in India. COVID itself is not harmful to us at the moment because of our community's good herd immunity. It is a good move, to remove curbs. But COVID isn't over. It's just that the virus' power to cause damage to society is a little bit blunt at the moment."
Also read: 'Stealth Omicron': All you need to know about the new sub-variant
When asked about making the wearing of masks not mandatory, and the BMC's decision to not apply a fine of ₹200 on people who weren't wearing masks in public, Dr Nagarkar said: "That is up to the public. Whenever they are in crowded areas, they should ideally wear a mask, but in other areas, where there isn't much of a crowd, it is not necessary that they should wear a mask."