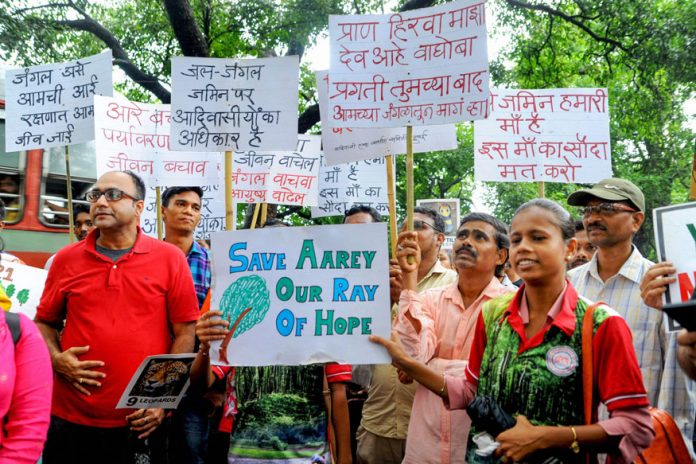 Protection and conservation of trees in cities will get higher priority now that the Maharashtra government has decided to bring the implementation and amendment (if any) of Maharashtra (Urban Areas) Protection and Preservation of Trees Act, 1975 under the state ministry of environment.
I raised the issue of cases on those who protested against the tree hacking in Aarey last year, in cabinet meeting today. I was backed by Ministers @Awhadspeaks ji & @AslamShaikh_MLA ji. The cabinet has decided to withdraw these cases. I thank CM sir, DCM sir, HM sir for support.

— Aaditya Thackeray (@AUThackeray) September 30, 2020
Maharashtra environment and climate minister Aditya Thackeray took to Twitter on Wednesday (September 30) evening to announce the decision after the cabinet meeting. "Now we can hope that development and environment protection will go hand in hand. I thank Urban development minister Eknath Shinde for his whole-hearted support to this change," said Thackeray.
The minister said the state is "prioritising and realising the importance of sustainable development and green governance and supporting such issues".
Thackeray also took up the subject of the Aarey Colony protest last year. "The people against whom cases were registered last year were fighting to protect the green cover of Aarey Colony. These were citizens/protesters standing for the future of our planet. To hold them from stopping desired work was one thing but to press police charges was another matter. We can't have cases against those who stand up for the environment and forests," he said.
The cabinet, especially MLAs Jitendra Awhad and Aslam Sheikh, backed the environment minister's demand to withdraw cases against all those who were booked for protesting against the then state government's decision to cut trees for setting up a metro carshed.
Aarey was in the news last October after the Mumbai Metro Rail Corporation Limited cleared the Metro car shed site and felling of over 2,000 trees, which led to a public uproar over the need for preserving the last green lungs of the city. A large number of trees were eventually felled as the court refused to declare the land as forest. Aditya Thackeray, then part of the BJP-Sena government, had sided with the protesters.
As it stands today, the new government under Chief Minister Uddhav Thackeray and environment minister Aditya Thackeray, has decided to allot 800 acres of Aarey colony land for reserved forest, a decision hailed by environmentalists.