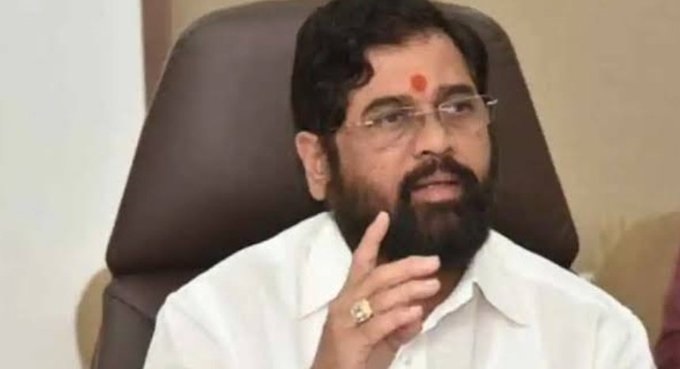 By urging the Congress and Shiv Sena (UBT) leader Uddhav Thackeray to pay heed to the words of Nationalist Congress Party chief Sharad Pawar on the Adani matter, Maharashtra Chief Minister Eknath Shinde has taken a jab at them.
United States-based Hindenburg Research had alleged large scale stock manipulation and accounting fraud in the firms of billionaire Gautam Adani, leading to strident protests by the opposition Congress and others against the Narendra Modi government. The group had refuted the allegations.
Also Read: Maharashtra: Ajit Pawar mocks publicity around CM Shinde's Ayodhya visit
In an interview to NDTV, Pawar came out in support of the Adani Group and criticised the narrative around Hindenburg Research's report on the conglomerate.
"Such statements were given by other individuals earlier too and there was a ruckus in Parliament for a few days but this time out-of-proportion importance was given to the issue," he said.
"The issues that were kept, who kept them, we had never heard of these people who gave the statement, what is the background. When they raise issues that cause a ruckus across the country, the cost is borne by the country's economy, we cannot disregard these things. It seems this was targeted," Pawar had said.
Also Read: Every government medical college in Maharahstra to have affiliated nursing college
Speaking to the media after a property exhibition in Kalyan on Friday night, CM Shinde said, "The Congress started an agitation seeking explanation of Rs 20,000 crore in the Adani group. Even Uddhav Thackeray continuously spoke on this issue. Now Pawar has commented and those who are protesting should heed these comments."
Pawar is a very senior politician and must have spoken on the Adani issue after much study, and, therefore, those protesting should clarify their stand, the CM said in a swipe at the Congress and Shiv Sena (UBT), which are allies with the NCP in the Maha Vikas Aghadi.
Meanwhile, speaking to reporters in Pune, senior NCP leader and former deputy chief minister Ajit Pawar said the party supports its chief.
Also Read: Marathi rapper booked for 'defamatory' song against Shinde-led Maharashtra govt
"Yesterday I watched the interview where Sharad Pawar saheb commented on Adani. Pawar saheb is our supreme leader. He expressed his stand on the topic and we support our leader's views," Ajit Pawar said.
(With agency inputs)