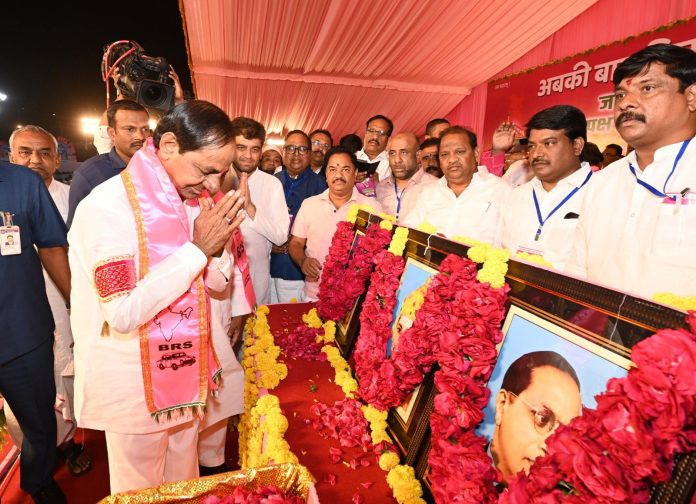 Bharat Rashtra Samithi (BRS) chief and Telangana Chief Minister K Chandrashekhar Rao called upon farmers to ensure that they help form a government that caters to their needs, while addressing his third rally in Maharashtra's Aurangabad on Monday (April 24).
KCR gave the slogan of "abki baar kisan sarkar (this time we will form a farmers' government)," drawing from the BJP's 2014 poll slogan of "abki baar Modi sarkar."
Pitching for the emulation of the Telangana model of governance in Maharashtra, Rao asked farmers to elect BRS in zilla parishad elections.
Also read: Will form govt at Centre, says KCR after unveiling India's tallest Ambedkar statue
"We want to have the Telangana model of administration in Maharashtra," he said. "Farmers are ending their lives. It is unfortunate that farmers had to agitate in the national capital for 13 months, after which PM Modi apologized to them and gave an assurance, but nothing has happened," Rao said.
"We need out of box thinking to change India. Nothing will happen by changing ruling parties. We have to bring change on our own. That is why we have BRS. The BRS is not for any class or religion but for all people," he said, adding that the party was building a permanent office in Maharashtra.
'Only BRS govt can fix water, power crisis'
Raising the age-old problem of water crisis in the region, KCR said political will was needed to resolve water and electricity supply woes facing the country. "A country like Zimbabwe has made a reservoir of 6,500 TMC (thousand million cubic feet). We need three to four such reservoirs. But our country has not learnt the importance of water. More than double the amount of water needed is available, yet there is water scarcity. Rulers, PM, CMs lack the will," he asserted.
He said even cities in the state get water supply once a week even though several major rivers originate in Maharashtra.
"This scarcity will continue till there is new structure and a new Act on water distribution. The water the rich drink in posh Jubilee Hills and Banjara Hills in Hyderabad is the same water the poor in Adilabad drink," he added. He said the BRS, if voted to power in Maharashtra, will supply water to every household in every village and city within a period of five years.
Criticising the electricity policy, Rao said the nation has coal to provide uninterrupted supply of power for 150 years. "If people in Telangana can get electricity round the clock, why not the people of Maharashtra. Here, electricity distribution is being privatised. Once we are in power, we will get back everything that has been privatised," he claimed.
Also read: Vizag Steel Plant bid: How KCR upset the cart for rivals YSRCP and TDP
He also questioned why Maharashtra does not have an insurance scheme for farmers on the lines of Telangana, where ₹5 lakh is given to the legal heir if a farmer dies.
The Telangana Chief Minister asked farmers to become MLAs and MPs, instead of just being used by leaders. Trashing the Centre's Digital India and Make-in-India initiatives, the KCR asked why Chinese products continue to flood the markets of the country. There used to be come planning during the rule of Prime Minister Jawaharlal Nehru, but subsequent governments were incompetent.
"A question that troubles me is whether India is becoming aimless. Are there any goals set for the country?" he asked.
'Implement Telangana model and I will not return,' KCR dares Fadnavis
Responding to Maharashtra Deputy Chief Minister Devendra Fadnavis remarks against his visit, Rao said he must implement the Telangana model for farmers to provide them relief. "After my rally in Nanded, funds were allocated by the Maharashtra government for farmers. Implement the Telangana model, and I will go to Madhya Pradesh and not come here," Rao said.
Also read: KCR, Jagan react in radically different ways as probe agencies zero in on kin
He asked Prime Minister Narendra Modi to name the new Parliament building after social reformer Babasaheb Ambedkar, widely feted as the chief architect of the country's Constitution. Meanwhile, former NCP MLA Annasaheb Mane and some other leaders joined the BRS during the rally.
(With inputs from agencies)