Shiv Sena chief Uddhav Thackeray dropped a bombshell on Friday (November 8) as he said he feels bad that he entered into an alliance with the "wrong people".
This comes soon after Maharashtra's caretaker Chief Minister and BJP leader Devendra Fadnavis trained guns at his saffron allies saying the issue of sharing the top post was never discussed in his presence.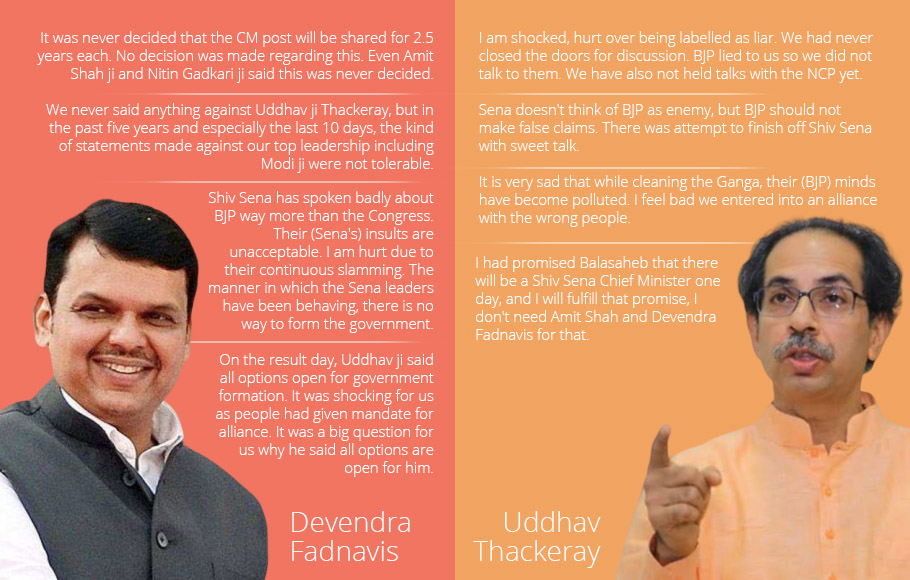 "It is very sad that while cleaning the Ganga, their minds became polluted. I felt bad that we entered into an alliance with the wrong people," Thackeray was quoted as saying by news agency ANI on Friday. He added that the Sena stopped talks with the BJP because it tried to prove him a liar.
The Sena president added that one day he will fulfil the promise he made to his father, Sena founder Bal Thackeray, of having a Shiv Sena chief minister in the state. "I don't need Amit Shah and Devendra Fadnavis for that," he said.
Thackeray said he was concerned after watching the caretaker chief minister's media briefing. He claimed that equal sharing of power was agreed upon by the two parties in the presence of BJP president Amit Shah.
He also targeted the BJP saying, "there was an attempt to finish off Shiv Sena with sweet talks." He further said that he was hurt over being labelled as a liar. The BJP is trying to prove Shiv Sena a liar, which is not acceptable," news agency PTI quoted him as saying.
(With inputs from agencies)