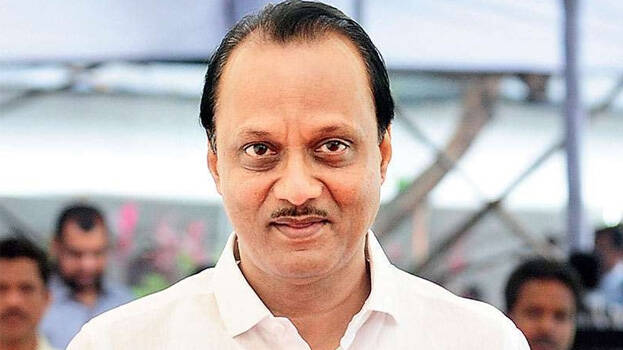 Maharashtra Deputy Chief Minister Ajit Pawar has made it clear that the three farmer bills and the labour reform bills will not be implemented (after they become Acts) in Maharashtra.
Ajit Pawar is the nephew of senior NCP leader Sharad Pawar.
Pawar made the statement on Friday when thousands of farmers across the country participated a nationwide strike against the Union government's three farm bills passed during the monsoon session of parliament. Over two dozen farmer organisations had announced support for the 'bandh' called by 18 political parties on Friday to protest against the bills passed by Parliament.
Farmers from Maharashtra protest against the #FarmBills2020 . They burn the copy of d bill in protest. Their demand is MSP should be part of this new farm bill & there should provision of penalty if corporate buyers buys farm produces below MSP @NewIndianXpress @Sunday_Standard pic.twitter.com/05o8SKxM7h

— Sudhir Suryawanshi (@ss_suryawanshi) September 25, 2020
Speaking at a function in Pune, the deputy CM said the bills were passed in Lok Sabha and Rajya Sabha in a hurry, without debate and lacks the support of people. "A number of labour and farmer organizations have already expressed their opposition to the passage of bills. The most important thing is that though the bills were passed by parliament, agriculture is a state subject. Therefore, we reserve the right to not implement the bills," said Pawar.
The top NCP leader also said that agriculture produce marketing committees (APMC) have been built and structured over the last many years with a reason and the Government of Maharashtra won't let them crumble.
Read more: Farm bills should guarantee MSP, says JD(U) amid farmers' protests
The Kerala government has already expressed its willingness to go to court against the bills. Punjab and Haryana farmers are already on the streets and now Maharashtra too is against it.  In Tamil Nadu and Kerala too the protest is gathering steam.
Parliament has passed three farm reform bills — the Essential Commodities (Amendment) Bill, Farmer's Produce Trade and Commerce (Promotion and Facilitation) Bill and the Farmers (Empowerment and Protection) Agreement of Price Assurance and Farm Services Bill — in the Monsoon Session, which concluded on Wednesday.