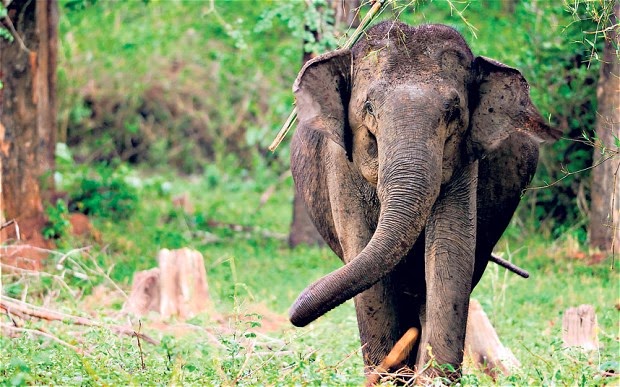 Preserve your fond childhood memories of watching elephants in a live circus — playing football, dancing cutely or disarmingly performing little tricks. It may no longer be possible to watch elephants in a circus in India as Great Golden Circus, the only circus in the country now to use the gentle giants, has been de-recognised by the authorities concerned.
Due to allegations of ill-treatment to animals like elephants and a variety of other reasons, circuses — once a prominent mode of entertainment — have been fading into oblivion and the final curtain has now been drawn down in the case of circus elephants.
Due to long standing allegations of circus animals being ill-treated and kept in captivity without proper care, the government had made it mandatory to obtain licences to use elephants. Though use of bears, monkeys, tigers, panthers, and lions as performing animals was banned in 1998, use of elephants for performance was allowed, subject to conditions on their upkeep. For that purpose, elephants were grouped along with horses, camels, dogs, and birds.
Also read: Mysterious elephant deaths in Coimbatore: A Botswana in the making?
Due to constant monitoring by watchdog organisations like PETA and Animal Welfare Board of India, violations have been brought to the notice of the authorities concerned and this resulted in cancellation of permissions on a case-to-case basis. In the process, the Ahmedabad-based Great Golden Circus was left as the only one to have a valid permission to use elephants for performance.
Over a period of time, allegations came up about Great Golden Circus not complying with regulations and not even filing monthly compliance reports. As actions by the Central Zoo Authority (CZA) intensified, the proprietor of the circus pleaded that lack of funds prevented provision of specific veterinary care to elephants. Interestingly, the proprietor of the circus also suggested that the recognition provided to Great Golden Circus may be cancelled, according to the Central Zoo Authority.
Recognition as a "captive animal facility" by the CZA is mandatory for any circus in India that wants to keep and use wild animals, including elephants — protected under the Wildlife Protection Act (WPA), 1972 — for performances.
Also read: Animal lovers oppose use of elephants for pulling chariots at Puri's Rath Yatra
After considering the charges against Great Golden Circus and the submissions of the proprietor of the circus, the CZA's technical committee, at its 98th meeting in November, recommended cancelling the recognition of the circus for violation of norms.
PETA For Complete Ban
Having campaigned continuously for ban on animals, including elephants, in circus performances, PETA's India chapter has now called for a complete ban on using animals in performances. "PETA India welcomes the decision of the central government not to allow the use of elephants in circuses, thereby honouring these intelligent, sensitive beings in the best way possible," PETA India CEO Dr Manilal Valliyate said in a statement. "We now request that the government completely ban the use of all animals in circuses, to show the world that this is a progressive, compassionate nation that won't tolerate animal abuse," he appealed.
Several inspections of circuses by the Animal Welfare Board of India (AWBI) and its 2016 study report that recommended a ban on using captive elephants for performances have pointed out that there is substantial evidence that cruelty is inherent when elephants are violently trained, the PETA statement said. "Their spirits are broken to make them obey human commands, they're forced to perform difficult tricks, and they're exhibited in crowded, noisy, and unnatural environments," PETA said while commending the CZA's decision. PETA India was part of the continuous efforts to highlight the issue and has also filed a petition in Delhi High Court to base use of animals in circus, according to PETA volunteers.
Based on the advisory committee's recommendation, the CZA decided to cancel the recognition of the Great Golden Circus at a meeting held on December 7. The order to cancel the recognition was issued on December 17. With the last licence issued to a circus for using elephants getting revoked, permission to use these gentle giants in circus has become non-existent now.
This means any use of elephants in a circus anywhere in India will be illegal. Elephants are not used in Republic Day parades since 2008 as the Ministry of Defence decided to prohibit their use. The view taken in this case was that It was highlighted that frustrated elephants may become violent and this led to security issues. Lack of clarity related to the legality of their ownership was also another factor.
While the CZA was in the process of revoking its permission, Great Golden Circus handed over its elephants to a religious trust. This led the CZA to issue a show-cause notice to the circus for transferring the custody of elephants without its permission.