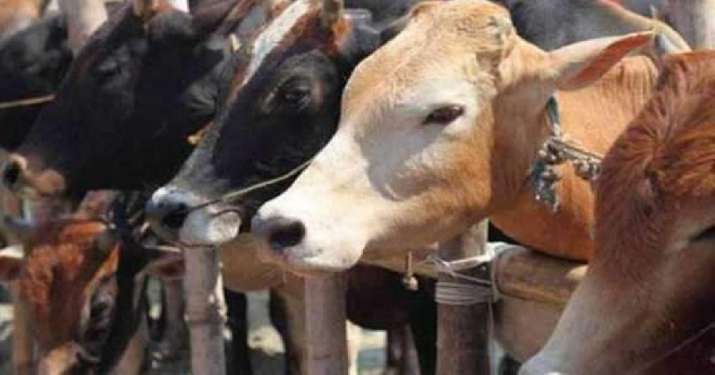 Day cow slaughter stops, all world problems will be solved: Gujarat court
A district court in Gujarat has sentenced a 22-year-old man to life imprisonment for illegally transporting cattle from Maharashtra, saying "all problems of the world will be solved" when not a drop of cow's blood drops on Earth.
Sessions Judge SV Vyas, while hearing the case in Tapi District Court, even quoted a Sanskrit shloka, saying the universe will cease to exist if cows become extinct and that the cow is responsible for the origin of the Vedas with all its six organs, Live Law reported.
He reportedly said religion is born of a cow, in the form of Vrsabha, and that the son of a cow is called Vrsabha. The court reportedly referred to two other shlokas as well, which Live Law loosely translated thus: "Where cows remain happy, all wealth and property are gained. Where cows remain unhappy, wealth and property remain unhappy and disappear…Cow is the mother of Rudra, daughter of Vasu, sister of Aditiputras, and treasure of Dhrutroop Amrit."
Also read: In view of climate change, cow-based natural farming need of hour: Adityanath
"Cow dung protects against atomic radiation"
Thus, the court stressed that the slaughtering of cows cannot be allowed and, along with illegal transportation, it brings disgrace to civilized society. "Cow is not only an animal, but it is the mother…. None is so grateful as a cow. A cow is the living planet of 68 crore holy places and 33 crore gods…. The day when no drop of cow blood drops on the earth, all problems of the Earth will be solved and its well-being will be established. There is much talk of cow protection and cow rearing, but it is not put to practice," he reportedly said.
According to Live Law, the court also claimed that science has proved that atomic radiation does not affect houses made with cow dung, and gaumutra (cow urine) can cure many "incurable" diseases.
Life term, fine of Rs 5 lakh
The case in relation to which the court made these observations is regarding a man named Mohammed Aameen Arif Anjum, who was arrested in July 2020 for allegedly illegally transporting over 16 cows and calves in a truck. The animals were reportedly tied with a rope, with no food or water.
Also read: Anubrata Mondal arrest sheds light on multi-crore cow smuggling racket
After analysing the evidence against Anjum, the court concluded that the prosecution had been able to prove beyond doubt that he was driving the vehicle in question and there was no reason for the police to frame him in the case. The court also concluded that the Anjum did not hold any valid documents necessary for transporting cattle and, thus, it could be presumed that the animals were meant for slaughter.
Anjum was held guilty under sections 5, 6, 7 of the Gujarat Animal Preservation Act, 2011, Section 11(1)(d),(e),(f),(h) of the Prevention of Cruelty to Animals Act, 1960, Section 2 of Gujarat Control of Animal Transportation Order, 1975, Section 4 of Gujarat Essential Commodities And Animal Control Act, 2015, Section-125 (e) of Central Motor Vehicle (11th Amendment) Act, 2015.
"Cow wealth lost"
Anjum has been sentenced to life imprisonment and fined Rs 5 lakh. In its 24-page order written in Gujarati, the court said 75% of "cow wealth" has already been lost or destroyed.
"A time will come when people will forget to draw pictures of cows. More than 70 years has elapsed since we got independence. Not only has cow slaughter not stopped, but it is reaching its climax. The problems that exist today are because of the increase in irascibility and hot temper. The only reason for the increase is cow slaughter. Till it is prohibited, a sattvic climate cannot have its effect," it stated.