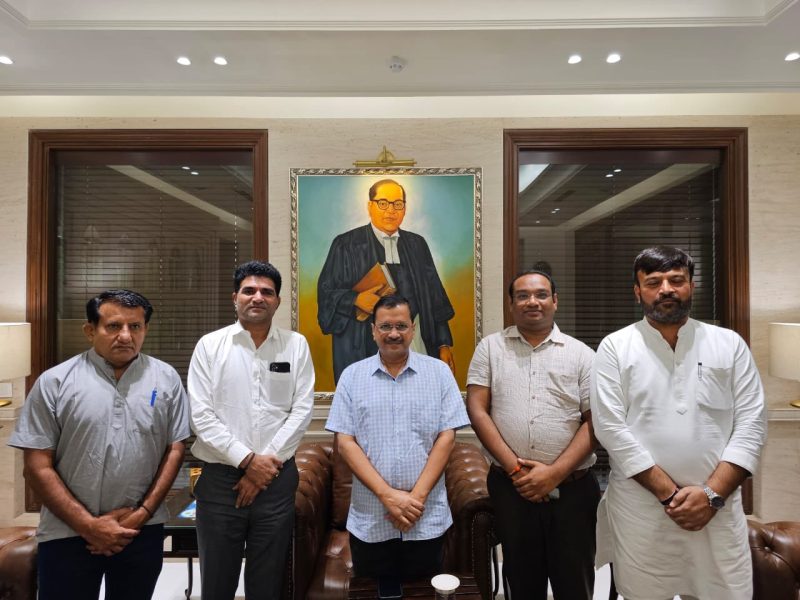 Gujarat AAP's fortunes tumble down after promising start
When Aam Aadmi Party (AAP)'s Gujarat chief Isudan Gadhvi took charge, he had declared that the party was preparing for the 2024 Lok Sabha elections, but its primary goal would  be to strengthen the state organisation by the 2027 Assembly polls.
"Congress has not been in the picture for a while now. So, AAP will do well in 2024, but our main target is 2027," pointed out Gadhvi.
However, two years after the party first shook up the political scene in the statel, the Gujarat unit is struggling to survive. It's in a downward spiral as leaders and party members are quitting in droves. Forget setting targets to contest polls, the party is finding it hard to survive in Gujarat.
AAP leaders jump ship
Last week, five AAP leaders holding posts in Gujarat joined the Congress along with 50 party workers. AAP's state vice-president Manoj Guptani, Ahmedabad city vice-president Ramesh Vora, Ahmedabad city general secretary S K Parghi, Lok Sabha in-charge Ajay Chaubey and the state spokesperson Parag Panchal joined the Congress in the presence of GPCC chief Shaktisinh Gohil at Rajiv Bhavan, the Congress headquarters in Ahmedabad.
This comes two weeks after AAP's vice-president of the Gujarat unit Vashram Sagathiya returned to the Congress fold along with several party workers.
"Many of our leaders and workers had joined AAP due to a misunderstanding. They have decided to return to the Congress because of the situation created by the BJP in the country and in the state," said Amit Chavda, the leader of the legislative party in the Assembly.
Also read: 'Made a mistake': Vashram Sagathiya, Gujarat AAP vice-president, returns to Cong
Noticeably, the Arvind Kejriwal-led AAP had posed a major challenge to the Congress in the 2021 Surat civic polls. The party's performance had wiped out Congress and had paved the way for AAP to enter Gujarat's political scene.
Hoping to retain its winning streak, AAP contested from 181 seats out of 182 seats in the Gujarat Assembly polls of 2022 (One AAP candidate however took back his nomination in Surat, after which AAP did not field another candidate from that seat).
AAP unable to retain its foothold
"AAP will win over 100 seats in Gujarat," the AAP's chief ministerial candidate Isudan Gadhvi had stated just ahead of the 2022 Assembly poll results. A series of exit polls had  given the AAP a fair chance.
However, AAP went on to win only five seats in the 2022 state polls, while the Congress was reduced to 17 seats in the 182-member Assembly. The Congress leaders blamed AAP for making a considerable dent in their vote bank and dividing votes in favour of the ruling BJP. The BJP went on to win 156 seats, its highest in the Gujarat polls so far.
Less than a year since the 2022 Assembly polls, the AAP Gujarat unit seems to be losing its grip over even Surat, where their historic win in the Surat civic poll in 2021 had marked AAP's advent in Gujarat's electoral politics.
Back then in 2021 in the Surat civic polls, AAP had made inroads into the Patidar (Patel) youth community and managed to win 27 out of the 120 seats.
Also read: AAP calls its Gujarat show impressive; results suggest it played spoilsport
However, in April 2023, six AAP corporators – Swati Kyada, Nirali Patel, Dharmendra Vavliya, Ashok Dhami, Kiran Khokhani, and Ghanshyam Makwana – joined the ruling BJP in Surat before state home minister Harsh Sanghvi. Later, four more corporators joined the party taking BJP's seat count in the Surat Municipal Corporation to 103 from its initial count of 93.
While the AAP state unit maintained that the BJP is luring and threatening its corporators, one of the corporators Ruta Kheni who switched to BJP earlier this year said, "We are influenced by BJP's ideology and the style of functioning of Prime Minister Narendra Modi."
Exit of richest AAP canditate 
Even as the AAP Gujarat unit was grappling with these setbacks, another jolt came when heavyweight leader Indranil Rajyaguru returned to the Congress, along with two other key leaders from the Saurashtra region of the state. Rajyaguru's exit left the party scrambling for funds.
Indranil Rajyaguru is a former Congress MLA from Rajkot East and among the richest candidates in Gujarat, with declared assets worth ₹141 crores ahead of the 2017 polls. He had won the 2012 election from Rajkot east on a Congress ticket and decided to contest in Rajkot west against the then Gujarat CM Vijay Rupani in 2017. Though he ended up losing the seat, Rajyaguru holds considerable influence in the Saurashtra region.
Notably, in the 2022 Assembly polls, AAP had majorly banked on its three candidates – Alpesh Kathiriya, Manoj Sorathia and Gopal Italiya – all Patidar leaders, in line with its winning formula of cutting into the Patel youth vote bank in Surat. However, all three lost their seats.
The party however won five seats – Botad in Saurashtra and tribal dominated Dediapada, Gariadhar, Jamjodhpur, and Visavada – with a vote share of 12.9 per cent, making it a national party. But that has not stopped AAP's consistent decimation in Gujarat.
Gadhvi is root cause?
According to Manishi Jani, a Gujarat-based political analyst, one of the primary reasons for AAP's declining fortunes in the state could be the choice of Isudan Gadhvi as chief ministerial candidate and party's state head.
"Gadhvi, a former local journalist, does not have caste backing and he does not connect with the masses, which are all required to win an election. He is not like Gopal Italia for example, who is still a popular Patidar leader though largely rooted in Surat," he said.
He  added that AAP largely failed to make its presence felt outside South Gujarat, where it did well in civic polls and later won tribal seats in the area as well. But, somehow, AAP clearly could not keep up the momentum and strengthen its foothold in the state of Gujarat.