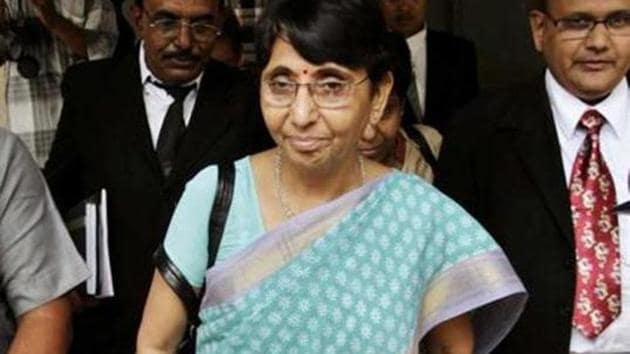 Former Bharatiya Janata Party minister, Maya Kodnani, has been acquitted in the second and final case against her in the 2002 riots cases. This paves the way for her to make a comeback in active politics in Gujarat, a decade after her political career took a nosedive due to allegations related to the post-Godhra communal violence.
Gujarat BJP leaders on Friday (April 21) said if the physician-turned-politician, once a member of the powerful Narendra Modi ministry in the state and rising star in politics, wants to return to active politics, the saffron party will definitely assign work to her.
On Thursday, Kodnani, 68, was acquitted by a special court in the February 28, 2002, Naroda Gam riots case in which 11 members of a minority community were burnt to death and their houses set on fire by a mob enraged by the burning of Sabarmati Express train near Godhra a day earlier that killed 59 passengers.
Also Read: Godhra train carnage: Supreme Court grants bail to 8 convicts; plea of 4 others rejected
This was the second and final riots case in which she was named an accused. Earlier, the only BJP minister named in the violence was cleared in the Naroda Patiya case.
"Kodnani is an active worker and participates in party functions. It is her personal choice whether she wants to take part in active politics," said a senior BJP leader.
"It is up to her to decide whether she wants to remain active in politics. If she does, then the party will definitely assign her work," he said.
Before her acquittal in the Naroda Gam case, Kodnani was in April 2018 cleared by the Gujarat High Court in the 2002 Naroda Patiya massacre. As many as 97 people were killed during riots in Ahmedabad's Naroda Patiya area and in the case, she was dubbed a "kingpin" by a special court that sentenced her to life imprisonment in August 2012, but the verdict was overturned by the HC.
Also Read: Naroda Gam riots case: Gujarat court acquits all 67 accused
Both areas are part of the Assembly constituency once represented by the BJP leader.
Soon after her acquittal by the HC, Kodnani, an Ahmedabad resident and three-time former MLA, was seen at some of the BJP functions in the state. During the campaign for the December 2022 Assembly elections, the former MLA was spotted at BJP functions, sharing dais with top party leadership where she was greeted with zeal.
Kodnani, facing the twin riots cases, was forced to resign as Minister of State for Women and Child Development in the then-Narendra Modi government after the Gujarat High Court rejected her anticipatory bail on March 27, 2009.
Following this, she surrendered before the Supreme Court-appointed Special Investigation Team (SIT) formed to further investigate the 2002 Godhra train carnage and eight other riots cases, including those reported in Ahmedabad's Naroda Gam and Naroda Patiya in which she was made an accused.
Also Read: Gujarat polls: Daughter of Naroda Patiya riots case convict gets BJP ticket
The BJP leader was a sitting MLA when she was sentenced to life imprisonment by a special court in the Naroda Patiya massacre case in 2012.
Kodnani began her political career by helming the Ahmedabad BJP Mahila Morcha and getting elected as a councillor of the Ahmedabad Municipal Corporation and then chairperson of the civic bodys standing committee in the 1990s.
A gynaecologist by training, Kodnani was seen as a rising star among women leaders of the BJP. She entered the Assembly for the first time in 1998 when she was elected from the Naroda constituency in Ahmedabad, defeating the Congress candidate by a huge margin of more than 74,500 votes.
After the 2002 riots, she won the same seat by a bigger margin of more than 1 lakh votes in the Assembly election held in December that year.
Also Read: Godhra train burning case in SC: Gujarat govt to seek death penalty for 11 convicts
In 2003, the BJP elevated her as the president of the party's Ahmedabad unit. She went on to win the Assembly elections for the third term from Naroda in 2007, this time by an even bigger margin of more than 1.80 lakh votes, further raising her stature in the saffron party.
After her third victory, she was rewarded with a ministership in the state's Modi government.
Kodnani was made Minister of State for Women and Child Development and Higher Education, but her political career suffered a setback when she was arraigned in the two riots cases by the SC-appointed SIT and had to resign in 2009.