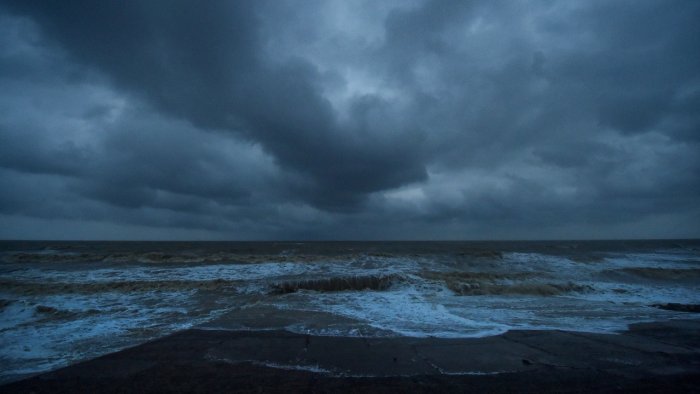 Cyclone Biparjoy may cause extensive damage in Gujarat: IMD
Cyclone Biparjoy has "extensive damaging potential" and is likely to impact Gujarat's Kutch, Devbhumi Dwarka and Jamnagar districts the most, the India Meteorological Department (IMD) said on Tuesday.
Biparjoy weakened from an extremely severe cyclone to a very severe cyclone on Tuesday. It is predicted to cross Saurashtra and Kutch in Gujarat and the adjoining Pakistan coasts between Mandvi in Gujarat and Karachi in Pakistan near the Jakhau Port (Gujarat) around the evening of June 15 as a very severe cyclonic storm with a maximum sustained wind speed of 125-150 kmph.
"Its damaging potential could be extensive," IMD Director General Mrutyunjay Mohapatra said at a press conference. The cyclone could lead to extremely heavy rainfall (over 20 cm) at isolated places in Kutch, Devbhumi Dwarka, Jamnagar and Porbandar districts from June 13 to 15.
Also read: Cyclone Biparjoy: Gujarat reports 3 deaths; evacuation underway, trains cancelled
Heavy rainfall warning
"We won't be surprised if these areas record more than 25 cm of rainfall. Usually, they do not receive such intense precipitation at this time of the year. Therefore, there is a risk of flooding in the low-lying areas," he cautioned. Rajkot, Morbi and Junagarh may receive heavy to very heavy rainfall. Winds gusting up to 145 kmph are predicted to batter all these districts on June 15.
Gusty winds and rain may cause extensive damage to standing crops, houses, roads, electricity and communication poles, and flooding of escape routes. "Up to six-metre-high tidal waves are likely to inundate low-lying areas of Saurashtra and Kutch coasts. We have recommended evacuation of the population in such areas and action is being taken," Mohapatra said.
Sea conditions are phenomenal (waves could be 10 to 14 metres high) in the northeast and the adjoining east-central Arabian Sea. The IMD has recommended total suspension of all activities, including oil exploration, ship movement and fishing, until June 15. The Met office has recommended close monitoring of the situation in the Gir National Park, the only known habitat of Asiatic lions in the world, and other famous places such as the Somnath temple.
Biparjoy, the first cyclone in the Arabian Sea this year, underwent rapid intensification on June 6 and 7, escalating from a cyclonic circulation to a very severe cyclonic storm in just 48 hours, defying earlier predictions.
Also read: Biparjoy on course to become cyclone with longest lifespan in Arabian Sea
Longest lifespan

It has also sustained its strength for a longer-than-normal duration, which meteorologists attribute to an unusually warm Arabian Sea. The IMD data shows Biparjoy is on course to become the cyclone with the longest lifespan in the Arabian Sea.
The life period of Cyclone Biparjoy, which developed over the southeast Arabian Sea at 5:30 am on June 6, is about eight days and nine hours so far. Scientists say cyclonic storms in the Bay of Bengal and the Arabian Sea have been intensifying rapidly and retaining their intensity for a longer duration due to climate change.
According to a study titled 'Changing Status of Tropical Cyclones over the North Indian Ocean', the frequency, duration and intensity of cyclones in the Arabian Sea have increased by about 20 per cent in the post-monsoon period and 40 per cent in the pre-monsoon period. There has been a 52 per cent increase in the number of cyclones in the Arabian Sea, while very severe cyclones have increased by 150 per cent.
(With agency inputs)