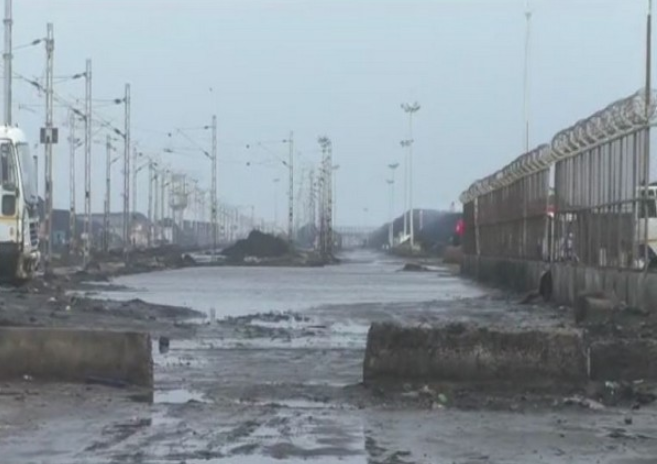 Cyclone Biparjoy leaves behind trail of destruction; 2 dead, 22 injured in Gujarat
Cyclone Biparjoy, which made landfall near Jakhau on Thursday (June 15) evening has left behind a massive trail of destruction in the western state. While at least two deaths have been reported, 22 have been left injured and 940 villages plunged in darkness as the cyclone barrelled through the state, uprooting trees large numbers, snapping power lines and flooding low-lying areas.
The India Meteorological Department (IMD) has said that the cyclone has lost its intensity and reduced from 'very severe' to 'severe' category.
"The severe cyclonic storm Biparjoy lay centred over the Saurashtra-Kutch region, 30 km north of Naliya as of 0230 IST today. It is expected to move northeastwards and weaken into a cyclonic storm by early morning on June 16, and into a depression by the same evening over south Rajasthan," IMD said in its bulletin.
IMD Director Dr Mrutyunjay Mohapatra said the intensity of the cyclone has reduced to 105-115 kmph and it is expected to bring heavy rains in Rajasthan on June 16.
Father-son duo killed near Sihor
According to PTI, a cattle-rearer duo of father and son died while trying to save their goats stuck in a flooded ravine in Bhavnagar district. Following a spell of rain since morning, water started flowing in a ravine passing through Bhandar village near Sihor town, said Mamlatdar (revenue official) S N Vala.
"Due to the sudden inflow of water, a herd of goats got stuck in the ravine. To save the animals, 55-year old Ramji Parmar and his son Rakesh Parmar (22) entered the ravine.
However, they got swept away in the waters. Their bodies were fished out some distance away," said Vala, adding that 22 goats and a sheep also died.
Watch | Ground report: Cyclone Biparjoy begins landfall in Saurashtra-Kutch
No other deaths were reported from other parts of the state.
A fire broke out in the coal lying at the old port in Jamnagar due to high wind. The fire brigade extinguished the fire with the help of local fishermen. Another fire was reported at a private company's coal stock near Okha Jetty, Dwarka.
540 trees uprooted, 940 villages plunged into darkness
The cyclone which packed heavy rains and gusty winds felled 524, uprooted electric poles at various places and snapped power supply in at least 940 villages of the state. At least 23 animals were killed in rain and storm-related incidents.
Biparjoy made landfall near Jakhau as a very severe cyclonic storm around 6.30 pm on Thursday with wind speeds of 115 to 125 kmph gusting upto 140 kmph. The entire landfall will be over by midnight, the IMD said.
#WATCH | Trees uprooted due to strong wind in Jamnagar after cyclone 'Biparjoy' made landfall along the Gujarat coast yesterday

(Morning visuals from Kalavad-Dhoraji Highway) pic.twitter.com/94ZthdR6N8

— ANI (@ANI) June 16, 2023
A total power blackout was witnessed in Mandvi town. Many trees were uprooted on Jakhau-Mandvi road as well as in Mandvi town due to the strong winds.
"Wind speed is very high. Right now we are having rains everywhere. But the situation is under control," District collector Amit Arora.
"We have minor damage such as 200 electric poles have been uprooted, 250 trees are uprooted, and we have cut power supply in five tehsils as a precautionary measure," he told reporters.
"We have shifted people to shelters from the areas which are going to be most affected by cyclone which is 10 km from the shore. We shifted around 52,000 people to shelters. We have shifted 25,000 cattle to higher grounds too," he said.
No major mishap had taken place so far, he said.
"This is because we have made prior arrangements to face the cyclone," the collector added.
99 trains remain cancelled till June 18
Western Railways has said that 99 trains, running through, originating or terminating in areas affected by the cyclone, will remain suspended till June 18.
"23 trains have been cancelled, 3 trains short-terminated and 7 trains short-originated. With this, 99 trains have been cancelled, 39 trains have been short-terminated, while 38 trains short-originated as a precautionary measure till June 18 in view of the safety of passengers and train operations with respect to the onset of Cyclone Biparjoy," Chief PRO of Western Railways, Sumit Thakur said in a tweet.
The Gujarat government is carrying out massive rescue and relief operations in the aftermath of the cyclone. At least 18 NDRF teams, 12 SDRF teams, 115 teams of the state road and building department and 397 employees of the state electricity department are on the ground in coastal districts.
Modi calls Gujarat CM, enquires about Gir lions
Prime Minister Narendra Modi spoke to Gujarat Chief Minister Bhupendra Patel over the phone on Thursday night and enquired about the situation in the state following the landfall of the cyclone.
Among other things, the prime minister sought to know the steps taken by the state administration for the safety of wild animals, especially the lions in the Gir forest.
"PM Modi held a telephonic conversation with me and took all the details about the current situation of Gujarat following the landfall of cyclone Biparjoy. He also enquired about the steps taken by the government for the safety of all wild animals, including the lions of Gir Forest," Patel tweeted.
The chief minister also visited the State Emergency Operations Centre in Gandhinagar and held a meeting with top officials to review the situation, said an official release.
During the meeting, Patel was informed that as many as one lakh people living in coastal districts such as Kutch, Junagadh and Devbhumi Dwarka were shifted to temporary shelters as a precautionary measure before the cyclone hit the coast on Thursday evening, said the release.
Apart from teams formed to restore electricity, water and road connectivity, the state Forest Department has also constituted 184 rapid action squads to rescue wild animals and to clear fallen trees in the entire Asiatic lion zone, it said.
While some radio-collared lions are being tracked through satellite signals, others are being tracked by the forest staff. Movement of 40 lions living near the coastal areas is also being closely monitored, said the release.
As many as 58 control rooms have been set up to address any wildlife emergency, it added.