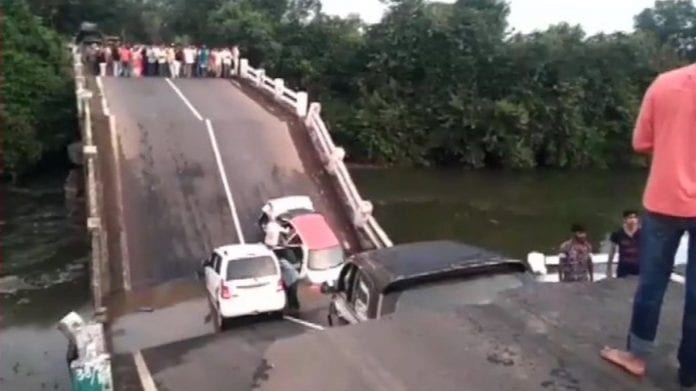 At least four people were injured when a 60-feet-long bridge near Malanka village in Junagadh district, Gujarat collapsed on Sunday (October 6) due to torrential rains, according to officials.
Four cars fell into the gap and five more vehicles were stuck under the debris as the bridge collapsed. The injured people were taken to a hospital nearby. No casualties have been reported so far.
"Some vehicles were stuck under the debris after slabs of the bridge crashed on Sunday evening near Malanka village and traffic movement was also disrupted in the area, located around 300 km from here," Junagadh collector Saurabh Pardhi said.
Also watch: Bridge collapses in floods near Mumbai, 35 villages cut off
The road connecting Junagadh to Mundra has now been blocked. "An alternate route has been opened for commuters," the collector said. Two cars and three two-wheelers were stuck under the crashed slabs, he stated, adding that the vehicles were later pulled out.
A similar incident took place two years ago when a bridge collapsed at Junagadh. A bus was dangling at the tip of the bridge, but the passengers escaped without any injuries.
(With inputs from agencies)