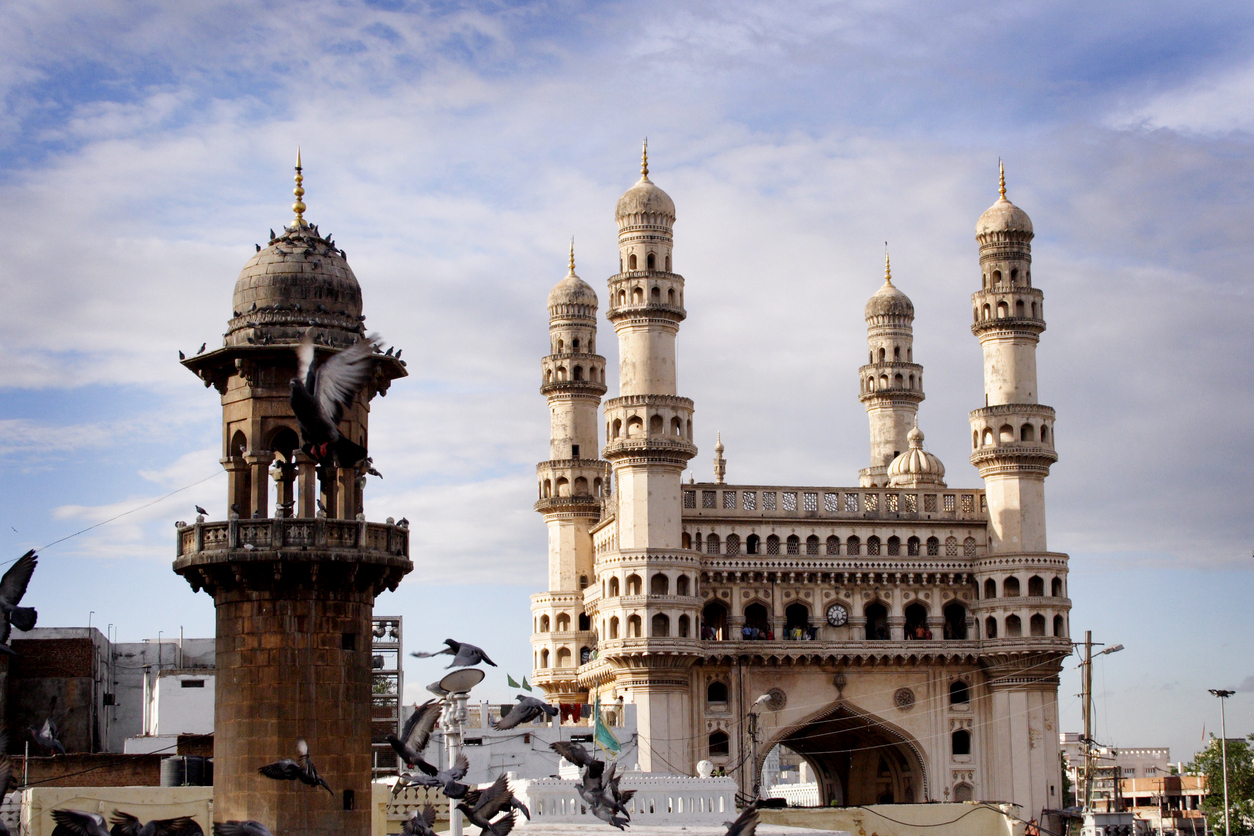 How government apathy keeps popular Hyderabad monuments off UNESCO list
Jaipur got UNESCO world heritage tag this month while Hyderabad, a strong contender for this status, is witnessing a tussle over a heritage structure which the Telangana government wants to demolish to build a new legislature complex.
Steeped in history and endowed with rich architectural legacy and vibrant culture, Hyderabad is considered by many as a natural choice for the global status, but the city's monuments are under threat.
The landscape of this 427-year-old city, now a leading information technology hub, has changed a lot with many heritage structures vanishing over the past few decades.
The ongoing legal fight between the government and conservationists over nearly 150-year-old Errum Manzil best exemplify the sorry state of affairs of the heritage of this historic city, famous for its pearls, palaces, minarets, rich culture and lip-smacking cuisine.
Historians and heritage activists feel that with its rich legacy of architectural and cultural landmarks, Hyderabad should be in the UNESCO list of world heritage sites.
UNESCO recognises specific landmarks as world heritage sites based on their historic value.
It has been nearly a decade since the proposal was submitted for including Charminar, Golconda Fort and the Qutb Shahi tomb complex in the UNESCO world heritage sites list.
However, neglect of heritage sites and official apathy in proper documentation has denied the city's monuments a place in the UNESCO list, say activists.
While the Indian government submitted a nomination dossier to UNESCO for securing the much-coveted tag for these monuments, the world body had termed it incomplete. The proposal was not re-submitted, say heritage activists.
Top three monuments
The three monuments are the most significant heritage sites in the city and are visited by hundreds of tourists every day.
Built in 1591 by Hyderabad's founder Mohammed Quli Qutb Shah, Charminar is the symbol of Hyderabad.
The majestic Golconda Fort was built by the Kaktiyas of Warangal during 10th century as a mud fort. They ceded it to the Baihamnis in 1363.  The fort was later fortified by the Qutb Shahi kings, who ruled from 1518 to 1687.
Qutb Shahi tombs complex comprises 72 monuments including mausoleums of rulers of Qutb Shahi dynasty. Historians say there is no other site like this in the world as it offers huge diversity of architectural styles.
"Jaipur was declared UNESCO world heritage site because of its Hindu-Muslim and European architecture and culture. Hyderabad also has the same rich diversity and in addition to this we have our own style – Osmanian – developed here from the local population, history and culture," said P Anuradha Reddy, convenor of Indian National Trust for Art and Cultural Heritage (INTACH).
The best example of Osmanian, according to the heritage activist, is the Arts College on Osmania University campus. It has Chinese Buddhist, Hindu and Islamic Qutb Shahi architecture incorporated in it.
"If we don't care for our heritage, we stand to lose the opportunity of getting recognition as world heritage status. In many cases it is the government which is responsible for the safety of monuments. But here it is the government which is demolishing such heritage sites. I fear for my city and my heritage," Reddy said.
The city of Hyderabad has intricately designed structures belonging to the three dynasties of Deccan Kakatiyas, Qutb Shahis and Asaf Jahis, but most of them are in a decrepit state now.
Disappearance of heritage structures
The city has either lost many heritage structures or is on the verge of losing them due to neglect by authorities, encroachments by land sharks and insensitivity of people towards their own heritage.
Two dozen monuments of historical, cultural, medical and educational importance of Asaf Jahi era are facing serious threat. Rapid expansion of the city and massive construction activity especially over the last 20 years has claimed several structures of historical importance.
Palaces, beautiful arches and giant wooden gates have either collapsed due to lack of proper care or were demolished to widen the roads or provide other amenities to the burgeoning population.
The 175-year-old Malwala Palace near Charminar was demolished in 2000 while several other structures were either bulldozed or allowed to collapse. Nampally Sarai, a heritage structure in the heart of the city, has partially collapsed while others like Osmania Hospital, Chest Hospital, Unani Hospital, Sardar Mahal, Kacheguda railway station, Darul Shifa, Ritz Hotel, Mahboob Mansion and the Khurshid Jah Baradari are victims of neglect.
Activists wonder how the city's monuments will get heritage tag if the government itself demolishes these structures or allows them to collapse by excluding them from the list of heritage buildings.
Errum Manzil, a classic case
The latest proposal by Telangana government to demolish Errum Manzil to build a new legislature complex highlights the threat the city's heritage structures face from those who are supposed to protect it.
When conservation activists and concerned citizens knocked the court's door, the government tried to justify its action by citing lack of heritage tag for the structure.
The government claimed it was one of the structures denotified as heritage buildings, but activists say the entire process was carried out with ulterior motives.
They say the heritage structures which were notified by Hyderabad Urban Development Authority (HUDA) were denotified to facilitate passing of the Telangana Heritage Bill in Assembly two years ago. The legislation was aimed at ensuring better protection for the heritage buildings.
Under Telangana Heritage Act, 2017, the government should constitute Telangana State Heritage Authority (TSHA) to consider including various monuments of Qutb Shahi dynasty and Asaf Jahi dynasty (1724-1948) in the list of heritage structures under the law. However, the TSHA is yet to see the light of the day.
The delay made over 130 heritage structures vulnerable. These include Errum Manzil, a palace built in 1870 by Nawab Fakrul Mulk, a noble of erstwhile Hyderabad State. Built in Indo-European style of architecture, it has 150 rooms and is located on a hillock in the heart of the city.
The government's plans to build a new Secretariat complex by demolishing the existing structures also pose a threat to Saifabad Palace, built during the times of VIth  Asaf Jah or Nizam, Mir Mahbub Ali Khan (1869-1911). After Hyderabad's accession to India in 1948, it came under the government's control and was used as official building.
It was used as the office of then Andhra Pradesh chief minister NT Rama Rao and other chief ministers.
As the palace was never looked after and it was allowed to deteriorate, activists say the government has found an excuse to do away with another landmark.