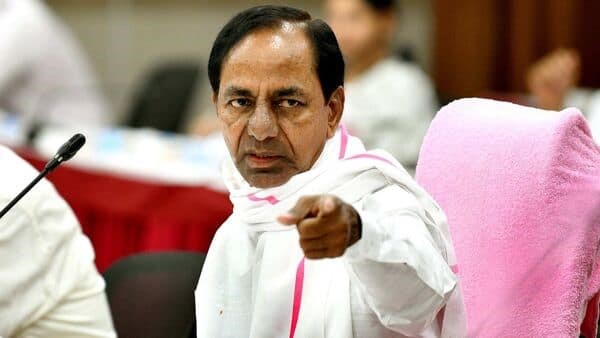 Why KCR is visiting pilgrimage town of Pandharpur in Maharashtra now
With a firm eye on capturing the attention of the farming community in neighbouring Maharashtra, Telangana Chief Minister and Bharat Rashtra Samiti president K Chandrasekhar Rao (KCR) set off today (June 26) on what seems more like a 'political pilgrimage', accompanied by a massive entourage of 600 vehicles, to the holy town of Pandharpur.
KCR is coincidentally visiting Pandharpur when it is teeming with lakhs of farmers on their annual pilgrimage to pray to the gods for good rains and a fruitful harvest.
The BRS chief left this morning for Solapur in Maharashtra by road with an unusual convoy of 600 vehicles. The entire state cabinet, all MLAs, MLCs and party functionaries are travelling along with him on this pilgrimage.
Party sources told The Federal that he would stay in Solapur for the night and leave for Pandharpur on June 27 morning. On reaching the pilgrimage town, he will first offer prayers at Vithal Rukmini temple and visit the palanquins of Sant Dnyaneshwar and Sant Tukaram.
Later, he is scheduled to visit Tuljapur to seek the blessings of Goddess Tuljabhavani. The BRS president will attend a political meeting at Sarkoli town in Maharashtra, where a few important local leaders from NCP and Congress are expected to join the party. However, his most important programme will be his interaction with pilgrims at Pandharpur, said sources.
Also read:Why KCR chose Maharashtra over Andhra, Karnataka to expand BRS footprint
The importance of the Pandharpur visit
KCR is not on a pilgrimage to pray to the gods to improve his fortunes rather he is eyeing pilgrims who are participating in the Pandharpur Wari, which is an annual yatra undertaken by farmers of Maharashtra, said political observers. Every year, 11 days before the Ashadhi Ekadashi thousands of farmers embark on a wari (yatra) on June 10 and 11 from Dehu and Alandi near Pune and reach Pandharpur on June 29.
It is these yatris that KCR will target to hardsell his Telangana Kisan Model with its catchy slogan 'abka baar kisan sarkar'.
According to Shrinivas Dasari, a senior journalist from Solapur, KCR probably wants to use the Ashadhi festival with its large congregation of farmers to showcase his Telangana Kisan Model.
Dasari said, "The warkaris mostly come from farming communities and other castes and sub-castes that are engaged in allied activities. The festival in Maharashtra coincides with the cessation of farming activities, which allows the farmers to leisurely embark on a pilgrimage to Pandharpur."
The yatris will reach the temple on June 29 this year. Nearly 12 lakh pilgrims are expected to congregate at the temple. "The Telangana CM wants these farmers to take the BRS message to all corners of the state," pointed out Dasari.
KCR, with his convoy of six hundred cars and entourage of ministers, legislators and party leaders from Telangana, Andhra and Maharashtra, will be a spectacle to behold and attract pilgrims, added Dasari.
According to party sources, rose petals are likely to be showered from helicopters on the yatris to draw their attention.
Also read: Strong buzz: BRS, BJP strike deal in Telangana ahead of polls
The rallying cry for Maharashtra
In Telangana, KCR has never called his government a Kisan Sarkar. But the slogan which was packaged for BRS has become a rallying cry to attract Maharashtra. He has appointed Manik Kadam, a former protegee of farmers' leader Sharad Joshi, who was the head of the Shetkari Sanghatan, as the president of Maharashtra BRS.
KCR's speeches in Nanded, Aurangabad and Nagpur have revolved around farmers' suicides and farming issues. KCR thinks the Ashadhi festival at Pandharpur is yet another perfect occasion to address the farmers. Party sources expect the yatris to work as messengers of KCR's 'Abki baar kisan sarkar'.
KCR is already emboldened by the huge response BRS is getting from NCP, Congress and AAP leaders in Maharashtra. BRS sources claimed that two former MLAs and 17 ex-MLAs have joined the party. Ten days ago, Congress former MP from Solapur, Dharmanna Sadul joined BRS. Earlier, another MP Haribhau Rathod, who represented the Yavatmal Lok Sabha constituency, joined BRS.
Speakng to The Federal, Dharmanna Sadul said he hoped more leaders from all parties would join the party. "BRS is going to be a force in Maharashtra. KCR has struck a chord with state farmers with his farmer-centric politics," Sadul said. If this is wishful thinking or not, only time will tell.