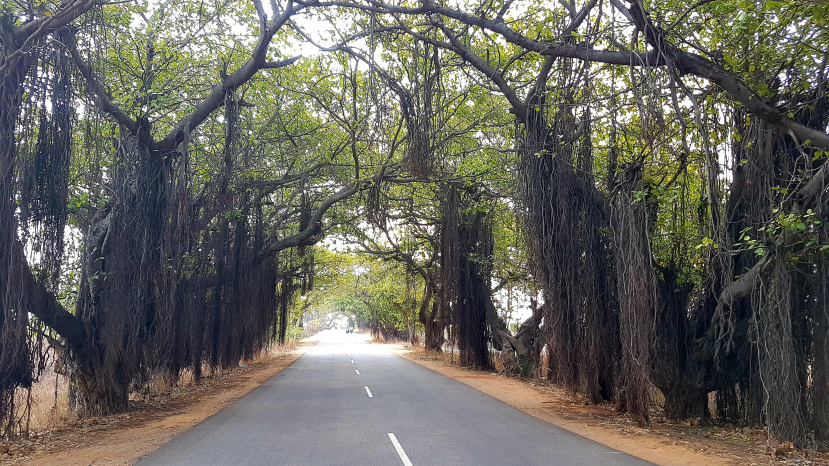 Felling of banyan trees prevented on highway thanks to people's movement
If you had travelled to Hyderabad by road a few decades ago, your best memory of that trip would invariably be the majestic banyan trees lined up on either side of the road leading to the city, forming a canopy that fills your heart with pure joy, the joy of being in the lap of Nature. The travellers would often stop under these trees to take a break, eat under the shade and carry on with their journey.
Not anymore
Almost all the highways have now become bare. The saplings planted on either side of the highways are struggling to grow. Thousands of trees, some of them as old as 100 years, are being chopped to make way for road widening.
"On one of my road trips, I noticed a fallen banyan tree on Hyderabad-Chevella-Bijapur road. Majestic even as it lay dead. I was shaken by the sight. The tree must have been about 80-years-old. I decided to do something about it and stop this merciless murder of biodiversity," recalled Uday Krishna Pedireddi, a public spirited individual who is on a mission to save the banyan trees.
Outpouring of support
An online petition, launched by Pedireddi's VATA Foundation, an environmental NGO, received massive support. It brought together over 35,000 citizens and entire village panchayats and turned it a movement to save the banyan trees from being chopped for a road widening project on Hyderabad-Chevella-Bijapur highway.
Close to 1,100 trees including 960 banyan trees, forming a canopy on a 50 km stretch between Moinabad and Manneguda on the highway, were to be axed to make way for the road widening work. However, following public pressure, the National Highways Authority of India (NHAI) has agreed to put the project on hold until the trees are translocated.
"We are happy that our request has been considered a positive decision has been taken. Our volunteers will help the trees to take root in their new home.
"We will translocate them and also ensure each tree gives way to 1000 saplings through branch propagation. We plan to move the trees to a space where they are not likely to face the danger of being cut again. We will re-create as many trees as possible and force the government to plant the same along our highways so that in 20 years, we will start seeing these gentle giants spread their wings again," Peddireddi told The Federal.
Highways can be realigned and in the worst case, at least translocate the effected trees. "We need to save what little we have before dreaming of re-creating. Even before the new saplings can grow, the highways are again being widened showing lack of planning and wasting precious resources – saplings, water, labour and money – which could have been used elsewhere more fruitfully," the activist said.
"I don't need any money, I just need time — at least a month to save the trees," he says.
The voluntary foundation has reached out to the Telangana government and the NHAI, volunteering to translocate the trees free of cost, in order to save them from the axe.
What is translocation?
"We will first prune the trees, uproot them and move them to a new pit using excavators. These pits could either be in a totally new location or they could be a few meters off the current location. A volunteer has come forward to provide us three excavators for this project. Several landowners and gram panchayats around Chevella have agreed to adopt these trees and take care of them." Pedireddi said.
Though translocation may not have hundred percent success rate, it is the only option in such cases. Fortunately, the banyan trees are sturdy and will survive if replanted. Last year, two trees were uprooted by a bulldozer and left to die on the Srisailam highway. We translocated them in a school premises and they are healthy now," the activist recalled.
"The work is not complete with just the translocation of the trees. They need to be properly taken care. Every suitable branch will be grown into a sapling. So our plan is to grow 35,000 new saplings from the trimmed branches and thereby make way for 35,000 new trees," he says.
Earlier campaigns
This is not the first time that the Vata Foundation had intervened to save trees from getting chopped off. With help from citizens and corporate donations, it had undertaken relocation of 300 trees which were felled at Raidurgam on the city outskirts for a road widening project.
In July 2015, the High Court had intervened and asked the voluntary agency to relocate 150-odd trees that were in danger of getting sawn off for road development works between Botanical Gardens at Kondapur and University of Hyderabad (UoH).
Depleting green cover
According to Global Forest Watch, India has lost more than 1.20 lakh hectares of primary forests in the last 5 years alone. "In all probability, we have also lost an equal amount of green cover to road-widening projects and related infrastructure development. Everyone can see that the rampant tree-felling has drastically changed the climate for the worse, increased air pollution levels, and changed temperatures," said a representative of "Nature Lovers of Hyderabad", a city-based NGO.
"The environmental concerns should have been taken into consideration before formulating the highway project. The government needs to ensure that the translocation happens smoothly," a spokesman of "Forum for better Hyderabad", an environmental NGO said.