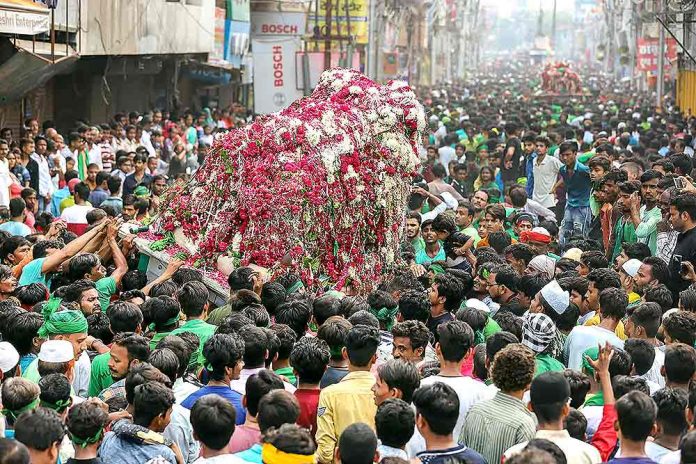 The Muharram procession was held in Hyderabad on Sunday (August 30) in violation of a high court order and without following COVID-19 guidelines.
Thousands of people accompanied the 'Bibi ka Alam' that was taken out in a van in the Old City instead of the usual tradition of an elephant, a first in the city's history.
The police commissioner had given permission for the alam on a van, but had appealed to the people to avoid gathering and crowding on its route in view of the pandemic and the high court order.
Advertisement
On Sunday, however, many people walked along with the alam, which started at the Bibi ka Alawa in Dabeerpura around 11.30 am and passed through Charminar, Gulzar Houz and Purani Haveli, before ending at Chaderghat around 3 pm. Most of those who took part in the procession were without a mask and did not adhere to the social distancing norm.
The custom of the alam procession is said to have 400 years ago. It is done on the 10th day of Muharram, known as Ashura, and Shia Muslims join the procession and flagellate themselves in memory of Imam Hussain, who was martyred in the battle of Karbala.
Members of the Shia community had then filed a petition before the city police, which allowed the procession to be conducted in accordance with the guidelines of the Union home ministry.
Last week, the Supreme Court had refused to allow Muharram processions in the country during the COVID pandemic, saying it would lead to "chaos" and "targeting of a particular community for spreading COVID-19".
The Telangana high court had referred to the Supreme Court order while refusing to allow Muharram procession in Hyderabad.