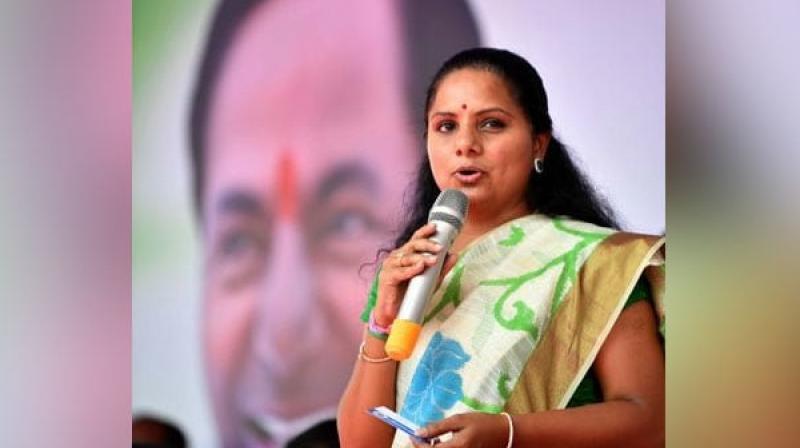 The defeat of Telangana Chief Minister K Chandrashekhar Rao's daughter K Kavitha in Nizamabad best exemplifies the shock Telangana Rashtra Samithi (TRS) has received in the Lok Sabha election.
Kavitha, who was confident of retaining the seat despite the entry of a record number of candidates including angry farmers wanting to highlight their problems, had to bite the dust as Dharmapuri Arvind of the BJP defeated her by more than 66,000 votes.
Arvind is the son of TRS leader and Rajya Sabha member D Srinivas, who had been staying away from party activities ever since Kavitha accused him of sabotaging TRS's interests.
Advertisement
Srinivas, former president of Congress party's Andhra Pradesh unit who had joined TRS after 2014 elections, claimed that he was against his son's entry into BJP.
Kavitha, who had defeated her nearest rival Madhu Yaskhi Goud of Congress in 2014 by over 1.67 lakh votes, is one of the most recognizable faces of the TRS.
The Nizamabad constituency had this time attracted nation-wide attention for the highest number of candidates and the largest number of Electronic Voting Machines (EVMs) used. A total of 185 candidates were in fray including 178 farmers, who filed the nominations to highlight their demands for remunerative prices for turmeric, red jowar and the turmeric board.
The Election Commission of India deployed a record of 16 ballot units of M3 version in each polling station to facilitate the polling.
Vinod Kumar
The defeat of B Vinod Kumar in Karimnagar came as another big shock for the TRS. A key leader of the party since its formation in 2001, Vinod, considered to be close to KCR, lost to B Sanjay Kumar of the BJP by nearly 90,000 votes.
Given Vinod's standing in the party and the perceived pro-TRS conditions in the wake of its massive victory in recent Assembly elections, he was expected to have smooth sailing. The TRS leader's confidence was also based on the fact that in 2014, he had defeated his rival Ponnam Prabhakar of Congress by over 2 lakh votes. The BJP had then finished third.
TRS's defeat is also shocking as Karimnagar was considered to be its stronghold. After reviving the Telangana movement with a huge public meeting in the town, KCR was elected from here in 2004 and retained the seat in 2006 and 2008 by-elections.
Uttam salvages Congress pride
President of Telangana unit of Congress party, Uttam Kumar Reddy was among the prominent winners in Telangana.  As the party was struggling to find strong candidates, the party asked Uttam to contest from Nalgonda despite the fact that he is one of the few MLAs who had remained with Congress after defection of 11 MLAs to the TRS during last couple of months.
Though considered one of the party strongholds, the Congress was facing a tough time due to the defection of senior leader G Sukhender Reddy. After his election from Nalgonda on a Congress ticket in 2014, he had switched loyalty to the TRS.
Uttam lived up to the party's expectation by winning the Nalgonda seat, defeating TRS candidate V Narasimha Reddy by more than 25,000 votes.
Two other Congress leaders, who could not win Assembly elections in December last, year sprang surprise by wresting seats from the TRS.
The party's state working president A Revanth Reddy registered a victory in Malkajgiri, India's largest Lok Sabha constituency comprising seven Assembly segments around Hyderabad. He defeated M Rajasekhar Reddy of TRS by nearly 11,000 votes. This seat was won by TDP's Malla Reddy in 2014 but he later switched loyalty to TRS.
Another senior Congress leader, K Venkat Reddy, who too had to bite the dust in Assembly polls, defeated sitting MP B Narsaiah Goud of TRS in Bhongir by a slender margin of 5,219 votes. Kishan Reddy, one of the key leaders of BJP in Telangana, also added his name to the list of winners who were defeated in the Assembly polls.
Kishan Reddy, who could not retain the Amberpet Assembly seat, was elected to the Lok Sabha from Secunderabad. A former BJP state unit president, he defeated TRS candidate Sai Kiran Yadav by over 62,000 votes.
Richest candidate
Konda Vishweshwar Reddy was among the prominent losers in the state. Richest among all Lok Sabha candidates in the two Telugu states with declared family assets worth ₹895 crore, he could not retain the Chevella Lok Sabha seat.
The engineer-turned-politician was elected in 2014 on a TRS ticket switched loyalty to the Congress on the eve of Assembly elections in December 2018. Reddy, who is married to K Sangita Reddy, joint managing director of Apollo Hospitals, lost to G Ranjith Reddy of the TRS.
Senior Congress leader and former Union minister Renuka Chowdary was once again unlucky from Khammam seat. She lost to Nama Nageswar Rao of TRS by a margin of over 1.68 lakh votes.
Nageswar Rao, who had resigned from TDP and defected to TRS after losing Assembly elections, won this seat for TRS for the first time.
4th term for Asaduddin Owaisi
While the TRS could not achieve its goal of winning 16 seats, its ally All India Majlis-e-Ittehadul Muslimeen (AIMIM) retained its Hyderabad seat for another term.
AIMIM chief Asaduddin Owaisi defeated his nearest rival Bhagvanth Rao of BJP by over 2.82 lakh votes to record his fourth consecutive victory.
AIMIM has been holding on to this seat since 1984.