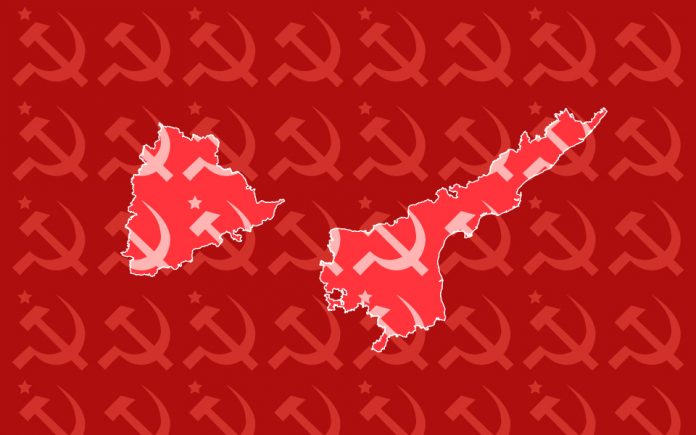 Facing an existential crisis, the left parties — CPI and CPI(M) — have decided to join hands and fight the coming Lok Sabha elections in Telangana together. The two parties are coming together after a gap of 10 years.
Once seen as formidable players in the combined Andhra Pradesh, which had witnessed strong Communist movements, the left parties have been on the downslide for nearly two decades now. Though CPI had repeatedly advocated merger of left parties to emerge as a formidable political force, the proposal never found favour with the CPI(M).
As per the new alliance agreement, the CPI is contesting Mahabubabad and Bhuvanagiri LS seats while CPI(M) has fielded candidates from Khammam and Nalgonda constituencies. Telangana has a total of 17 LS seats.
The two parties had gone separate ways in the December 2018 Assembly elections in Telangana. While CPI was part of the Congress-led 'Prajakutami' (People's Front) which also had the Telugu Desam Party (TDP) and Telangana Jana Samiti as partners, the CPI(M) had fought under the Bahujan Left Front (BLF) banner that had some smaller parties. The alliance experiment had failed miserably as opposition parties faced rout in Assembly polls.
While the Congress is going it alone, contesting all the 17 LS seats, the ruling Telangana Rashtra Samithi (TRS) is in the fray in 16 seats, leaving Hyderabad seat to its friendly party All India Majlis-e-Ittehadul Muslimeen (AIMIM) whose president Asaduddin Owaisi is seeking re-election for the fourth term.
The State Secretary of CPI(M) Tammineni Veerabhadram said that the Jana Sena Party, headed by actor-turned-politician Pawan Kalyan, is already working together with the left parties in neighbouring Andhra Pradesh. Nalgonda and Khammam districts in Telangana and Krishna and Kurnool districts in Andhra were the traditional strongholds of the left parties in their heydays.
Fading of the Red
The combined Andhra Pradesh was once seen as a bastion of left parties after West Bengal, Kerala and Tripura. However, the advent of a strong regional player — the TDP — in 1983 saw the beginning of erosion of their support base. They had to depend on alliance with the major parties like the Congress and the TDP to win a few seats and remain relevant in state politics. The left parties have had no representation from AP in the Lok Sabha since 2009. In the 2004 elections, the CPI and CPI(M) won one LS seat each when they fought the elections in alliance with the Congress. In the 2009 polls, they joined the TDP-led grand alliance but drew blank. The two parties went separate ways in the 2014 elections but could not win a single seat in Telangana and AP.
A clear disconnect with aspirational middle class and the post-liberalisation generation, continued peddling of the worn-out Cold War era narrative fuelled solely by anti-Americanism, failure to recognise the role of the private enterprise in wealth creation and distribution, visceral hatred for the corporate world and blind opposition to adoption of new technologies and big ticket projects are some of the factors responsible for the left parties losing relevance over years.  decade-long separation