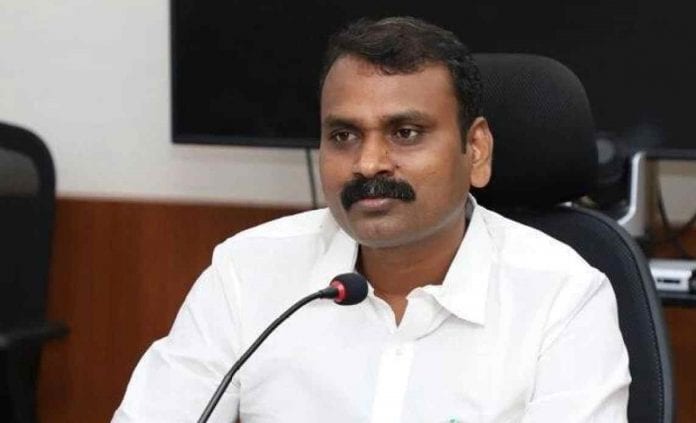 The appointment of L. Murugan, a member of the Scheduled Castes community, as president of the Tamil Nadu unit of the Bharatiya Janata Party (BJP) is drawing praise and criticism.
A section of people welcomed the decision saying the party, by handing over the reins to a Dalit, is breaking new ground. They said other parties like the Dravida Munnetra Kazhagam (DMK), which 'talked of social justice' had not given such a party position to a Dalit.
The detractors said this was just a political stunt. They said there was no change to the living conditions of Dalits even when the first citizen of the country, President Ramnath Kovind, was a Dalit. How would a party office-bearer make a change, they added.
But, this is not the first time a Dalit has been appointed state president of the BJP. Between 2000 and 2003, S.P. Kirubanidhi was appointed president of the state BJP. The decision was lauded by many but the discrimination that Kirubanidhi faced from within is no secret.
Caste factor in BJP
Kirubanidhi, a native of Koliyanur village in Villupuram district, joined the BJP in 1989 and went up the ladder to become the president. He was a doctor by profession. He died in 2017 at the age of 90, after a prolonged illness.
Kirubanidhi's name cropped up again as Murugan's appointment was made. Some on social media tried to recollect what happened to the first Dalit president. Many wished Murugan good luck while others asked him to be wary of facing a Kirubanidhi-like fate.
Related News: Is Rajini testing waters by indirectly propping Kamal for CM role?
Kirubanidhi had gone to Indore, Madhya Pradesh, in 2003 to participate in the BJP national council meeting. Party's senior leader Ila Ganesan was also in attendance. After the meeting, Kirubanidhi wanted to return to Taj Residency, where he had checked in. He was waiting at the venue for his car.
At this point, Ila Ganesan started abusing Kirubanidhi verbally. He insulted Kirubanidhi by calling his caste name. Even though Kribunidhi tried to pacify him, an agitated Ila Ganesan twisted the former's arm.
Kirubanidhi later gave an interview to 'Tamila Tamila' magazine in April 2003. Kirubanidhi listed the reasons behind Ganesan's attack. The points which Kirubanidhi raised are being actively discussed in the Murugan scenario.
In the interview, Kirubanidhi said the fight was over the misuse of funds by Ila Ganesan that he had pointed out.
"My tenure was nearing completion. I had to submit the accounts. I found many irregularities in the handling of party funds. Ganesan continued to handle the party's state funds even after his elevation as national secretary. When I prevented him by doing so, he got angry, developed a grudge against me and then attacked me," Kirubanidhi said in the interview.
Related News: GK Vasan's nomination to RS: Is there more than what meets the eye?
He also detailed the difficulties faced from the time he was appointed state president.
"The party did not give me the basic facilities. I bought a fax machine on my own. If I wanted something to be typed, I was forced to get the work done from outside. I spent from my pocket for party work. If someone comes to Kamalalayam and asked for me, the workers there would never give a proper answer," he said.
When the interviewer asked if the discrimination was on the basis of his caste, Kirubanidhi, after a moment's pause, said, 'yes.'
"They are unable to digest the fact that a Dalit is in a leadership position," said Kirubanidhi. After that episode, he exited the party and joined the DMK.
Panchami land issue, a reason
Lawyer and author A. Ashok said the BJP in 2009, 2014, and 2019 Lok Sabha elections, never fielded a candidate in Tamil Nadu from a reserved constituency.
"Tamil Nadu has a long history of Dalit movement. Parties like Viduthalai Chiruthaigal Katchi (VCK) has now mass support. It was evident during the anit-CAA and anti-caste protests and rallies. The BJP in the state got rattled by this and hence a Dalit president now. But in the long run, the BJP will play its cards and put the onus of the decision on this Dalit leader," he said.
Related News: Petrol bomb hurled at Hindu Munnani office in Coimbatore
When VCK chosen to stride in electoral politics, the BJP appointed Kirubanidhi as its state president. Now, the VCK is the major voice of dissent against the Centre and the BJP has chosen Murugan, added Ashok.
"When the BJP was in alliance with the DMK in 2001, it was Ila Ganesan who handled seat-sharing talks. State president Kirubanidhi was never given a chance to participate in those discussions. Dalits need empowerment and not sympathy. As vice-chairman of the National Commission for Scheduled Castes, Murugan literally tried to do in the DMK in the Murasoli case. It was alleged that the DMK's party organ office was located on Panchami land," said Ashok, who is also an activist involved in reclaiming Panchami lands. (Panchami lands were allotted to Dalits during the British era. Dalits were then called Panchamas).
Can Murugan speak up?
Speaking to The Federal, Aloor Shanavas, deputy general secretary of the VCK, said the BJP is run by the RSS.
"In any other political party, if a new, hitherto unknown person is brought to the leadership, there will be a lot of debate, dispute, and disappointment. That is the nature of a political party. It is debatable whether all the other political parties like the DMK, AIADMK, Congress are giving space for Dalits. But, we cannot consider BJP on par with the other parties as it is run by a movement called RSS," he said.
Related News: SC stays Madras HC order allowing CBI probe into RK Nagar bypoll bribery case
Aloor Shanavas said there would be no debate or dispute if a person like Murugan is elevated as chief. "There is no surprise in this. But would the RSS do such a thing? Would a Dalit ever be appointed in place of Mohan Bagawath?"
Making a Dalit the party chief is no big deal unless he or she speaks for social justice, added Shanavas.
"We can welcome Murugan's appointment. But can he speak up for social justice and seek and increase in reservation for Dalits or enact a new law to end honour killing? Do you need the issues addressed or just a dummy?" he said.
Such issues could be addressed by parties like DMK even though they do not have Dalits in top positions, he said.