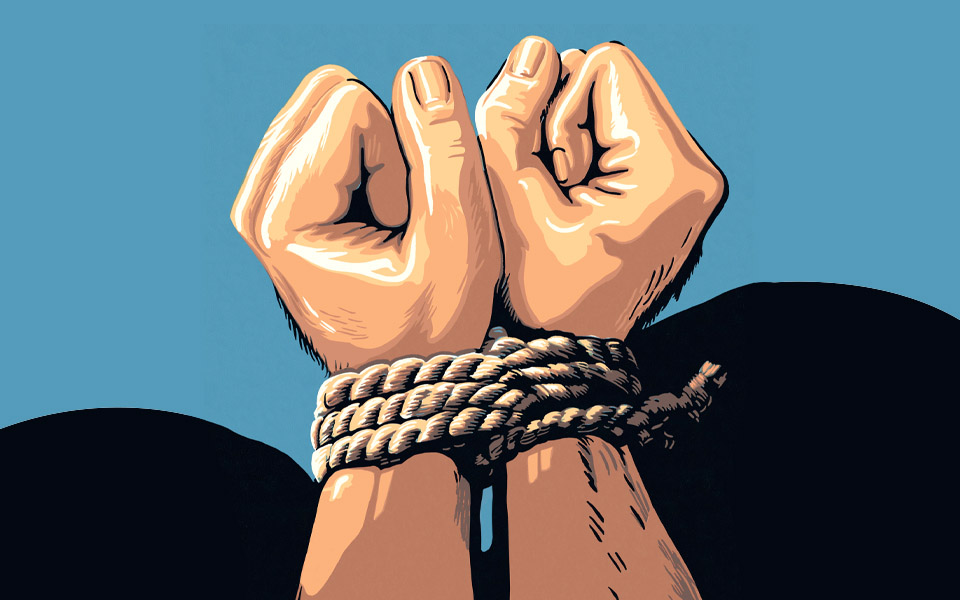 On May 7, three families of bonded labourers were freed from a brick kiln in Thirupattur in Vellore. Trapped in the kiln and made to work all through the day, the families were caught in the web of repayment of debt amounting to ₹30,000, for the last four years.
The families belonged to the Irula community from Krishnagiri. The most vulnerable of tribal groups in the state of Tamil Nadu, the Irulas are the easy victims of bonded labour. Owing to their abject poverty, and their specialised skills that make them the best hands for work in brick kilns and rice mills, they also constitute cheap labour.
Almost 90 per cent of rescued bonded labourers in districts like Kancheepuram, Thiruvallur, Thiruvannamalai and Vellore are Irulas, according to activists. A large section of them live in northern and eastern districts of Tamil Nadu. Leading a nomadic existence across the state, the community, which dates back to thousands of years has lost its original habitat in the forests due to deforestation. They are traditionally snake and rat catchers, but over time, they moved to the agriculture sector, as farm labourers, and eventually into other industries at the turn of the 21st century.
Advertisement
Poverty and the debt trap
Shanmugham (40), a farm labourer from the Irula community in Thiruttani, Thiruvallur district, blames his financial crisis for walking into the trap of bonded labour that lasted for over five years. He says, "I borrowed a sum of ₹5000 for my sister's marriage from the brick kiln owner in Katpadi in Vellore. I had learnt to make bricks in a kiln in my hometown and when the brick kiln owner in Vellore was ready to give me the loan in exchange of working for him, I readily agreed." The owner also convinced him to move into the kiln with this family—his wife, a three-year-old son and a three-month-old daughter. "I didn't realise he did this to extract more work from us as a family. I had to work from dawn to dusk and even after that I was paid only ₹300 every week. He told me he would pay me  ₹300 for 1000 bricks, but in a day I made at least 500 and my wife had to do all the other chores in his household. He would not let all of us return to our village. Whenever I returned to my village, my wife and children were forced to stay back. He used to threaten me saying that he would harm my family, if I didn't return." After toiling hard at the kiln for a paltry sum, relief came for Shanmugham and his family after a raid by revenue department officials and the family was sent back with a sum of ₹1000 and a release certificate.  The story of Shanmugham and his family is the same as any Irula family which is caught in the vicious cycle of poverty and debt, making them the easiest targets for bonded labour. The greedy owners want their skills at a cheaper price, says Helen Barnabas, a social worker, who has worked with the tribe in the four districts.
Displaced and lost
Helen says that even as there are rehabilitation measures for them, the acute financial crisis they are in doesn't let them wait for it. "They have no choice but to take up the work they are offered. The Irulas have mastered the skill of brick making and boiling the rice manually and accurately in rice mills and are always in search of work. They are migrants and often live in areas near water bodies or crematorium and are often displaced during times of natural disasters. Their nomadic existence adds to their burden of poverty and makes them take up any work they get for even pittance," she says.
K Krishnan, secretary, National Adivasi Solidarity Council, says that the failure of the state in implementing the Mahatma Gandhi National Rural Employment Guarantee Act (MGNREGA) is one of the major reasons for the plight of the group. He says, "They do not have basic amenities in the villages or in the parts of towns they live. They are hardworking and do not resist any amount of pressure put on them. These traits have become disadvantages for them, but an efficient system of MGNREGA can make living sustainable. They do not have to fall prey to deceit of owners who trap them in bonded labour."
True to his observations, Shanmugham says that after release from bonded labour, his life has not been smooth. "My wife has a slight limp and is enrolled in the scheme but gets only about 40 days of work in a year. Moreover, we remain ostracized in our village at Mambakka Chathiram."
Krishnan says that the Irulas situation is the collective failure of all–Forest, Wildlife and Adi Dravidar and Tribal Welfare Department of the state. "Under various measures taken by the Forest and Wildlife Department, they have been shunted out of their own habitats, even as they live in harmony with nature and wildlife. Rescuals and release do not mean an end to their long standing problems," he says.