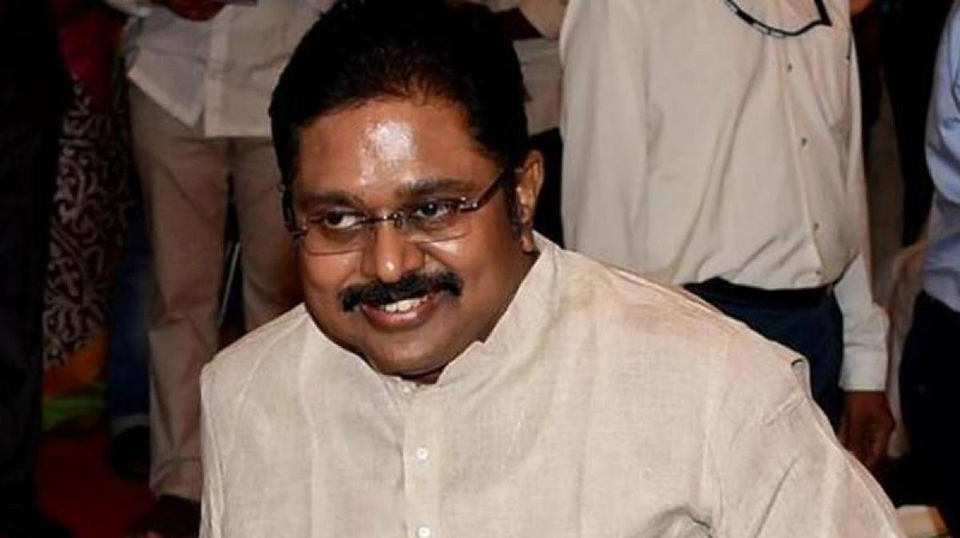 TTV in political wilderness, his only hope is Sasi's return
The debacle in the Lok Sabha elections of the much-hyped politician T T V Dhinakaran, has all but pushed him into political wilderness. For a politician who promised much and indicated that he would occupy the post-Jayalalithaa political vacuum, Dhinakaran is struggling to be counted.
His AMMK (Amma Makkal Munnetra Kazhagam) scored zilch, sparking off a spate of desertions by his colleagues who rejoined either the AIADMK or the DMK. Some of his ex-colleagues say that they cannot wait for him to evolve as a leader while others say he cannot sustain in politics as he has not conveyed his ideology, policies or vision for the people.
TTV, as Dhinakaran is popularly called, came to attention in the manner he won the RK Nagar Assembly by-elections in December 2017. His victory attracted 18 disqualified AIADMK MLAs to him. "However, with no ideology, principle or policy, a Thevar, he polarised people on caste lines which threatened O Panneerselvam who also belonged to the dominant Thevar caste in the southern part of the state," alleged a former colleague who moved to the AIADMK.
But, the Thevar support did not turn into votes as TTV expected. "It is because he was seen as an AIADMK man. Once he formed his own AMMK party with a distinct party symbol the people lost faith in him," said former legislator Thanga Tamil Selvan, who moved from AMMK to DMK. He does not have the wherewithal to replace any leader in the State.
Also read: AMMK leader Tamil Selvan joins DMK amid rumours of defecting to AIADMK 
"He cannot take over AIADMK nor develop his own party without an objective and long term policy," Tamil Selvam told The Federal. However, there is hope that things will change once his aunt, the infamous V K Sasikala, is out of jail where she has been incarcerated since February 2017 on corruption charges.
An AMMK cadre from southern Tamil Nadu, who is considering leaving the party, said that people believe Sasikala's release would bring a change in the political scene in Tamil Nadu. But not anytime soon.
"As Sasikala had been a close companion of Jayalalithaa, she can handle the situation better," said the AMMK cadre. Sasikala is scheduled to be released only in 2021. By that time Dhinakaran will have lost the support of all the seniors. "It is not that easy to survive in politics by just using his aunt's name and money," he said.
Manonmaniam Sundaranar University Tamil department head A Ramasamy said the Tamil electorate does not subscribe merely to the politics of fame. "In Tamil Nadu, politicians should be in politics for a prolonged period and have an ideology and plans for the people. They must also be in touch with the voters constantly. As far as Dhinakaran is concerned, after he was sidelined in 2011, he was nowhere in the political scene and did not even campaign for any of the AIADMK candidates in the elections held between 2011-2016," said Ramasamy.
People saw him only after the death of Jayalalithaa. "Even after entering active politics, his aim was only to come to power and he did not put forth any promises for the people apart from saying that he will chase out the seven ministers of AIADMK from power," said Ramasamy. There were even doubts whether TTV would be able to retain his party's headquarters in Chennai as it was owned by the son of a former law minister Essai Subbiah who walked out of AMMK.
However, his colleagues said he would not be office'less' as AMMK had taken the building on lease for 36 months. TTV had been in the AIADMK since 1999 when he became a Member of Parliament for the first time from the Periyakulam constituency in Tamil Nadu. His entry into politics was not because of his work, but because of his aunt Sasikala, according to popular belief.
Also read: SC set to hear DMK's plea to disqualify 11 AIADMK MLAs 
However, in the next election in 2004, Dinakaran was defeated. Despite this, Jayalalithaa nominated him as a Rajya Sabha member. According to senior AIADMK officials, when Dhinakaran was the MP of Periyakulam constituency, O Panneerselvam was the chairman of the Periyakulam municipality.
Dhinakaran used to stay with Panneerselvam as both of them belong to the same caste. It was Dhinakaran who recommended Panneerselvam for the Periyakulam assembly constituency, said a senior leader on condition of anonymity. However, Dhinakaran lost his clout in 2011 after Jayalalithaa banned VK Sasikala and her family members from her official Poes Garden residence for their alleged anti-party activities, and plotting against her.
TTV was left in the lurch while Sasikala managed to patch up with Jayalalithaa in 2012. Dhinakaran rose to prominence after Jayalalithaa fell ill on September 22, 2016. AIADMK leaders then turned against Dhinakaran and Sasikala accusing them of taking control over Jayalalithaa and the AIADMK party.
Also read: Thanga Tamil Selvan to be sacked soon, says TTV Dhinakaran 
The first among them was the deputy Chief Minister O Panneerselvam, who staged a 'Dharma Yudhdham' at Jayalalithaa's memorial against Sasikala's family members. He described Chief Minister Edappadi K Palaniswami's government as corrupt. It was at this time that Dhinakaran was nominated by the AIADMK as a candidate for the RK Nagar while simultaneously making him the deputy general secretary of the party.
Panneerselvam led a delegation to the Supreme Court asking it to freeze the two leaves symbol along with the party name. The RK Nagar by-polls was eventually cancelled on the grounds that unaccounted money was marring the election campaign. Palaniswami and Panneerselvam then joined hands to expel TTV from the party.
A section of AIADMK workers joined TTV who formed the AMMK and vowed to get the AIADMK's two leaves symbol. Even though Palaniswami and Panneerselvam nominated a veteran, Madhusudhanan, against Dhinakaran in the RK Nagar by-polls, he won the election as an independent candidate. But, as events have later shown, R K Nagar was his last success.
Though it is widely acknowledged that none can be ruled out in politics, it looks like TTV has to get used to the political wilderness for a while before he gets any chance to make a comeback, if at all.