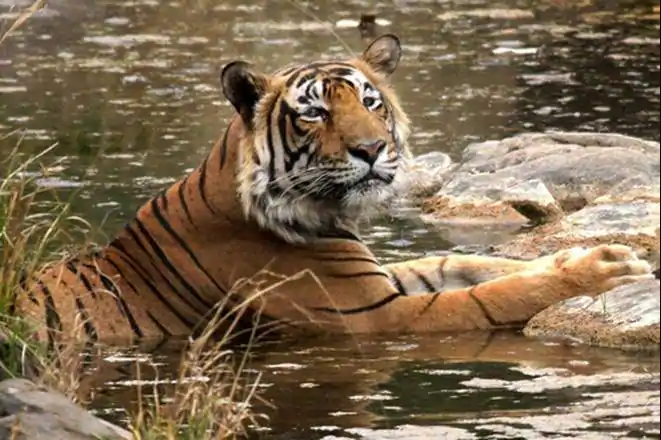 Activists are demanding the speedy setting up of a tiger reserve in Srivilliputhur-Megamalai in Tamil Nadu's Theni district. But it is not just to conserve the tigers, whose numbers are growing, but also to revive the Vaigai river, which originates from the region.
First proposed in 2012 under the then-environment minister Jayanthi Natarajan, who hailed from Tamil Nadu, the Srivilliputhur-Megamalai Tiger Reserve was given in-principle clearance by the National Tiger Conservation Authority (NTCA) in 2014. However, following that, there has been no movement forward.
Activists blame encroachment by regional politicians and constant poaching for the stalling.
Srivilliputhur and Megamalai, located in the southern Western Ghats, have wildlife sanctuaries and are rich in fauna and flora.
Tamil Nadu already has four of the 50 tiger reserves in the country — Kalakkad-Mundanthurai reserve came up in 1988-89, followed by Annamalai and Mudumalai reserves in 2008-09 and Sathyamangalam in 2013-2014.
Also read: Woman forest official assaulted in Telangana, TRS MLA's brother held
While the Project Tiger has improved the population of tiger across the country, it has come at a great cost to mankind.
According to a reply by the Ministry of Environment, Forests and Climate Change in Parliament on June 28, 224 people have lost their lives in man-tiger conflicts.
"It is in this forest swathe that 'Moola Vaigai', the source of Vaigai river, lies" says a wildlife activist working in Srivilliputhur forest range, who is among several conservationists creating awareness about the importance of setting up a tiger reserve in the region.
"We have conducted a tiger census and there are camera trappings showing the presence of tigers in both Srivilliputhur and Megamalai. In order to save the forest cover in this region, a tiger reserve is the only resort. It is evident that wherever there are tiger reserves, the forests are verdant and resourceful," he said.
Also read: Felling of banyan trees prevented on highway
According to a conservationist from Theni district, the present water crisis in the state is a 'man-made' one, and could have been averted if the forests had been conserved.
He pointed out that one of the key reasons as to why Vaigai river is seeing a slow death is because the existing natural resources are not properly preserved.
"Five districts of southern Tamil Nadu namely Dindigul, Madurai, Theni, Sivagangai and Ramanathapuram were once dependent on Vaigai river. The river used to run for eight months in a year. About 50 per cent of water from Vaigai fulfilled the drinking water needs. Now, these districts have become dependent on the Periyar dam. Though it is technically not owned by us, we should learn from Periyar Tiger Reserve (in Kerala). It is because of that reserve that the forest and the Periyar river was maintained well. Likewise, the Thamirabarani river was also revived because of the Kalakkad Mundanthurai Tiger Reserve. By following these examples, we can revive the Vaigai river by setting up Srivilliputhur-Megamalai Tiger Reserve," he said.
The conservationist however cautioned that unless there is community participation, the tiger reserve cannot become a success.
Also read: Wild elephant deaths shoot up without dedicated corridors
Speaking to The Federal, a forest official who maintained anonymity said the proposal on the tiger reserve is pending with the state government.
According to activists, the delay by the state government is because of encroachment in the forest area.
"About 5,000 hectares of forest area is encroached. Last year, the Madurai bench of the Madras High Court ordered eviction of the encroachers within eight weeks. But we are unable to do it because of opposition. Later, we got an extension of six months. However, due to the election, we were unable to do anything," the official said.
"Whenever we try to carry out eviction process, people living there are creating law and order issues," he said, and rued that the forest department has only 10-15 personnel making it impossible to evict thousands of encroachers.
"Despite these problems, we have submitted an eviction proposal to the government, and that too is pending," he said.