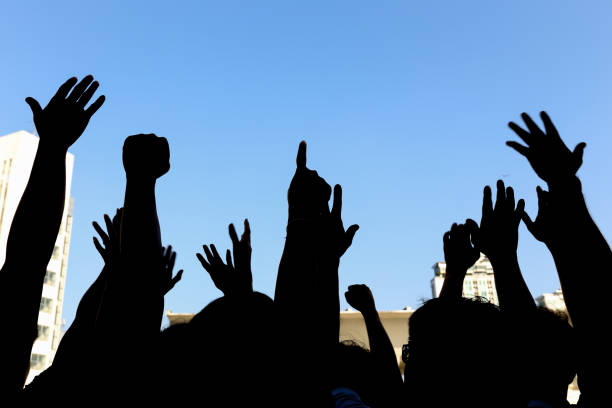 In Tamil Nadu, one can be tagged as a 'political rowdy' by the state police if that person dares to raise his voice and demand his rights and fight for the welfare of the people.
In a state where several agitations have broken out in the last two years, the police have used the term to portray agitators as law breakers. Although the word political rowdy has no place in official terminology, for the police it is enough to book a case against political activists, raising questions over whether this involves a serious human rights abuse.
S Ananda Kumar, a former MDMK cadre from Karumathampatti in Coimbatore, has always been critical of the state government. He has been protesting against the state government for setting up TASMAC shops in the residential area in his locality.
Ananda Kumar was shocked after a local police personnel warned him that he was being watched by the police by opening a history sheet (HS). An HS, which is opened under the 110 Cr.PC proceedings, is usually done to keep track on notorious criminals and gangsters.
"This is the first time, I am hearing that a HS is being opened for an activist who protest for the rights of the people in a democratic manner," said Ananda Kumar. Subsequently, he filed an RTI in 2017 seeking further details, however, the local police denied.
After two long years of struggle, Ananda Kumar finally managed to get the direction from the Central Information Commission, based on which the local police recently furnished the details to him. The details of the HS opened on Ananda Kumar by the state police revealed that he was categorised as 'political rowdy'.
"So far, six cases has been slapped against me. The cases were for protesting to shut TASMAC shop in my locality, commemorating the death anniversary of the people who died in Somanur bus stand roof collapse and demonstrating for allowing the locals to cross the toll plaza free of cost," he said.
Though all the cases slapped against him were for agitating against the state government, he was not arrested even once. "If I am a serious offender and causing disturbance to the people, I should have been arrested. But, since all my protests were for the welfare of the people, police just slapped cases against me but did not arrest me," he said.
According to police sources, of the six cases slapped against him, he was chargesheeted only in one case. Another activist, D Prabakaran, who was an independent candidate in the Sulur Assembly bypolls, was also named as an associate of Ananda Kumar.
"The police are portraying us as gangsters. We did nothing mischievous. It is our democratic right to protest. But, the government does not want to hear the dissenting voices of the society," Prabakaran said.
A senior police officer in the western region said that a HS can be opened against any person who faces more than two cases. "However, there is no official category called 'political rowdy'. Local police might have used colloquial language to identify them," the police officer said.
'Violation of human rights'
However, People's Union for Civil Liberties (PUCL) national secretary S Balamurugan said it was a violation of human rights. "An HS is usually opened to keep a watch on those persons who have disrupted public peace. It will not be applicable to political activists as it is their democratic right. Coining them as a 'political rowdy' is a violation of human rights," he said.
He further said that a HS cannot be opened for a political activists. "Now, one-third of the parliamentarians are facing criminal cases. Will the police tag all these MPs as 'political rowdies'," he questioned.
Balamurugan also said that there is no legal definition for the word 'political rowdy'.
However, a former Superintendent of Police said that the cops open HS for agitators whom the state government consider as threat.
"Such protesters would be continuously monitored by the intelligence personnel and the top officials would be updated about their movements," he said, while adding that there is no term called 'political rowdy'.