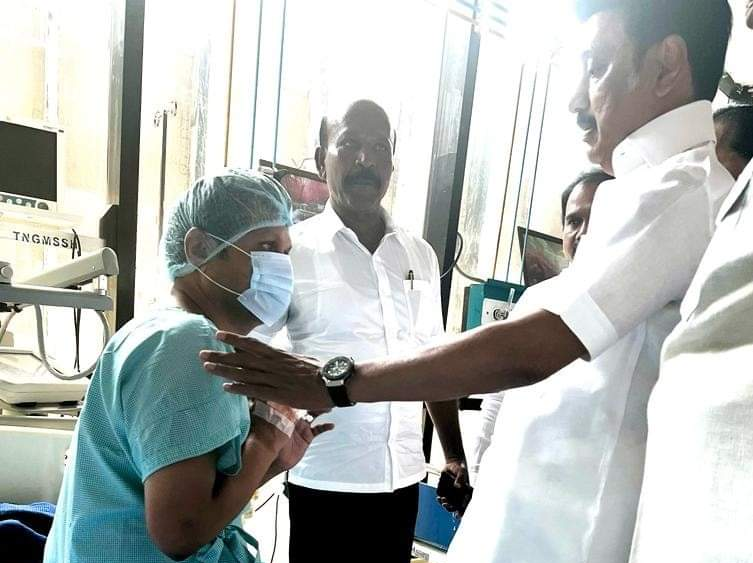 TN minister Senthil Balaji advised heart surgery after angiogram; wife moves court
Tamil Nadu Electricity Minister V Senthil Balaji, arrested by the ED in an alleged money-laundering case, underwent a coronary angiogram on Wednesday (June 14).
Meanwhile, Balaji's wife moved Madras High Court against his arrest, alleging that no notice or summons was issued beforehand. The High Court has agreed to hear the case urgently.
Balaji is being treated at the Omandurar government hospital in Chennai, where he was reportedly diagnosed with a triple vessel disease during the angiogram. Doctors have reportedly advised a coronary artery bypass graft (CABG) at the "earliest".
"Symptoms of torture"
Balaji "underwent coronary angiogram at 10.40 am" on June 14, a medical bulletin issued by the Director of the Tamil Nadu Government Multi Super Speciality Hospital, Omandurar Estate, said.
Also read: 'Cruel intentions evident': Stalin flays ED for 'inhuman' treatment of arrested min Senthil Balaji
Tamil Nadu Chief Minister MK Stalin on Wednesday visited Balaji at the hospital, where he has been admitted to the Intensive Care Unit (ICU).
Fellow DMK leader PK Sekar Babu alleged that there were "symptoms of torture" on Balaji's body. "He is in the ICU. He was in an unconscious state and did not respond when he called him by his name. He is under observation… There is a swelling near his ear, doctors say there is variation in his ECG (electrocardiogram)… These are symptoms of torture," Babu added.
"We will face it legally"
Balaji reportedly complained of uneasiness during the Enforcement Directorate's (ED) raids on his property that were being done since Tuesday (June 13). He was later taken away for questioning and arrested on Wednesday morning after hours of grilling.
Videos showed Balaji crying and seemingly feeling unwell while being taken to the hospital for a medical checkup by the ED on Wednesday morning. Central paramilitary personnel were later posted at the hospital.
#WATCH | Rapid Action Force deployed at Omandurar government hospital in Chennai, where Tamil Nadu Electricity Minister V Senthil Balaji has been brought for medical examination

ED took him (Senthil) into custody last night in connection with a money laundering case. https://t.co/Oe4crk8Ota pic.twitter.com/l0Mh8W2uWj

— ANI (@ANI) June 14, 2023
"Senthil Balaji is undergoing treatment," said Tamil Nadu Sports Minister and DMK Youth Wing chief Udhayanidhi Stalin. "We will face it legally. The DMK will not be cowed down by the BJP's intimidation," he added.
"No clarity over arrest"
On the other hand, DMK advocates who visited the hospital said there was no clarity on whether Balaji was in ED custody. Law minister S Reghupathy, who visited the hospital, said there was no clarity over Balaji's arrest as well.
DMK advocates demanded that the ED officially make it clear immediately whether Balaji had been arrested or not. Reghupathy also questioned the need for the ED raids at Balaji's house running non-stop for hours.
Also read: Who is Tamil Nadu minister V Senthil Balaji, whom the ED has arrested?
The ED had launched searches at locations linked to Balaji in Chennai, Karur, and Erode on Tuesday as part of probe into money-laundering. The action came months after the Supreme Court allowed a police and ED probe into an alleged cash-for-jobs scam against the DMK strongman. Balaji was earlier with the AIADMK and had been Transport Minister in the late Jayalalithaa-led Cabinet.
The ruling DMK in Tamil Nadu has accused the BJP of targeting the party after being unseated in Karnataka in the recent Assembly elections. Chief Minister Stalin slammed the BJP-led Centre for the raids and said the saffron party was resorting to a "politics of intimidation".
(With agency inputs)