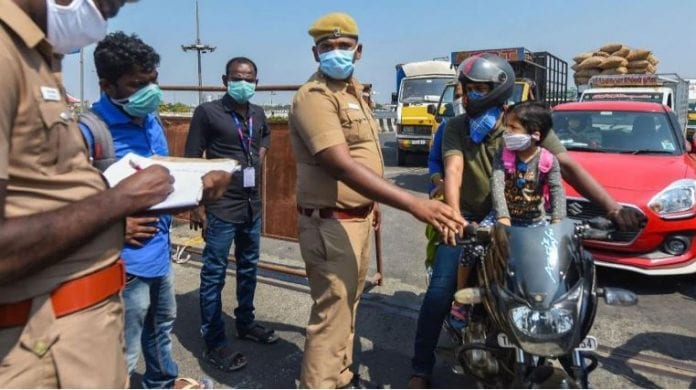 At a time when the Tamil Nadu government has made e-passes and 14-day quarantine mandatory for inter-district travellers, a nexus of travel agents and government officials are jeopardising containment measures by issuing inter-state e-passes to commuters. This comes at a time when there is a rush among people living in Chennai to leave the city amid growing COVID-19 cases.
The racket not only enables a commuter to jump district check-points by showing his or her inter-state pass, but also escape quarantine. In this way, an individual wanting to travel from Chennai to Kanyakumari can easily cross district checkpoints on his route by telling personnel that he is bound for Kerala.
The Federal, in an investigation, closely followed a case in which a couple travelled to Kanyakumari using an authentic e-pass and managed to escape the mandatory quarantine. The couple was caught and asked to home quarantine themselves, after neighbours reported the case to local authorities.
Related news: Chennai sees second round of mass exodus after COVID cases skyrocket
When The Federal tried to get to the root of the scam, we reached a travel agent who illegally procures passes for such people. Posing as clients, we asked him if he could get us an e-pass to Thrissur in Kerala. He promised us to get a pass to Thiruvananthapuram instead and asked to submit a Kerala Aadhaar card so that we aren't stopped in the middle of our journey. We paid ₹3,000 and submitted documents like Aadhaar card, vehicle license number and RC book details. The agent handed over the pass within a day.
We found the pass to be genuine after scanning the QR code. But, we had not received any message for e-pass verification. It was likely that the agent had been using his own phone number to get passes for all his clients.
An e-pass, which gives travel authorisation, is issued online to restrict the movement of people and prevent them from travelling unnecessarily.
Modus operandi
Once we understood that the pass was original, our attempt was to find how exactly the agent had procured the pass.
We contacted him for a second time, for another pass to Tirunelveli. He, however, told us that he can only get us passes to Kerala.
"I cannot get you a pass to travel within Tamil Nadu. I will get you a pass to Kerala, but you go to your hometown in Tirunelveli. In case any official enquires where you are travelling to, show your pass and tell him you are travelling to Kerala," he said.
When we seemed worried about our safety, he said, "You will only face trouble if you cross Kakavilai Check Post in Kanyakumari, which you won't. In case you reach the place, you might be stopped at the border by Kerala officials. Otherwise, if your neighbour makes a complaint, you will have to quarantine yourself. I have helped many reach their homes, you will reach safe."
When we probed deeper, he revealed that it was not possible for him to procure a pass to Tirunelveli because of strict norms in place. It was relatively easier for him to get a pass to travel outside Tamil Nadu instead.
Hidden nexus
He revealed that he was helping a friend in the business of procuring e-passes. His friend allegedly works for a private hospital and was using his contacts there to his advantage. The friend helps the agent with medical certificates for the e-passes. We, however, couldn't verify the same.
When we spoke to a source at one of the collectorates in the state, who wished to remain anonymous, he said, "It is relatively easy to procure a pass to travel outside Tamil Nadu. Officials clear such requests easily than in the case where you are moving to another district within the state."
According to official data, the Tamil Nadu government has so far received 31 lakh applications, out of which 12 lakh applications have been approved. Of these, 1, 84,000 applications have been cleared to travel outside the state.
Related news: Complete lockdown in Chennai, neighbouring districts from June 19
"When someone applies for an e-pass, it gets approved by district collectors. If you are going to Trichy, it will be approved by the Trichy district collector, if you are going to Chennai, it will be approved by Chennai Corporation Commissioner. For medical emergencies, we have told them to clear it within two hours. In other cases, it is according to the district collector's discretion as they have to prepare facilities for quarantining," said Santosh K Misra, Commissioner of Tamil Nadu's e-governance agency.
When the approval is given, all details of the commuter reaches the district collector. This helps officials at the collectorate maintain a travel history. But, when a person does not reach the destination, it gets difficult for them to detect him or her. As the agent has most probably given his contact, they cannot even call the commuter for details, which creates a lot of confusion.
However convenient it might be for commuters, the racket jeopardises the efforts of the state government to contain the spread of COVID-19, especially at a time when the state with 50,000 plus cases stands second to Maharashtra in recording the highest number of infections in the country.