The welcome programme, which will take place before Chinese president Xi Jinping's meet with Prime Minister Narendra Modi at Mamallapuram on Friday (October 11), is replete with several Tamil art performances.
This programme is expected to give artistes a much-needed boost. Over 350 artistes from across the state will be performing during the welcome programme at the Chennai airport.
The Chinese president will be witnessing various traditional folk art forms. Some of them include:
Thappattam, a dance performed to the beat of a percussion instrument called 'Thappu" or 'Parai' in Tamil.
Oyilattam, which translates to the 'dance of grace' and is performed with ankle bells tied to the dancers' feet and handkerchiefs to their fingers.
Kombattam, a martial art form performed using deer antlers.
Poi kaal kuthirai aatam, which refers to an art form where a performer dances after fitting a dummy horse on himself.
Silambattam, a martial art performed using a bamboo staff.
Also read: Pattachitra artists in Odisha look at bleak future post cyclone Fani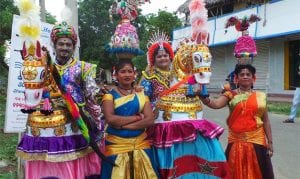 Performances including the classical dance form of Bharathanatyam and musical instruments like nadaswaram will also take place.
Talking to The Federal, T Somasundaram, director, Tamil Nadu Rural Arts Development Centre, says that it is an excellent opportunity for them to showcase their skills.
He is coordinating the welcome programme. "We have been told to have an ensemble that comprises the ancient folk forms. Tamil Nadu's art forms are unique and rich and some of them need a major fillip to keep them alive. The artistes who are carrying forward the tradition with great difficulty and little support need this kind of a showcase. It gives them and the art form immense prestige."
Also read: Stage artistes in TN in trouble as police read the EC 'act' wrong
"This is also an opportunity for us to educate the audiences about the culture of our state through the forms. We hope that after seeing them, many will come forward to support them," he says. He added that he hopes the Chinese president will appreciate the talent of the artistes.
Somasundaram, who has been coordinating with the artistes for four days, says that efforts have been taken to present the art forms in a manner that would capture their richness and variety. He says, "There is great care being taken to ensure that the ensemble is perfect. It takes a lot of work and there is a lot of hard work that has gone into this presentation."
Rehearsals have been taking place at the Jawaharlal Nehru Indoor Stadium in Chennai.
The costumes for the performances will be the best of traditional attire. These include silk dhotis, silk sarees and long flared skirts in bright colours.