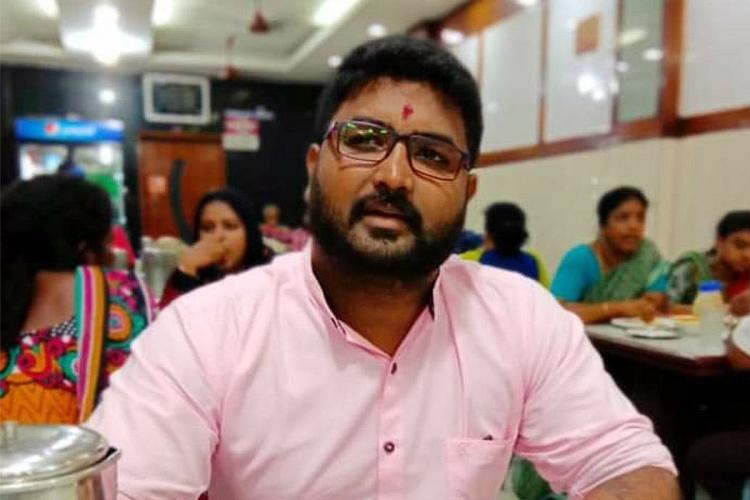 The Greater Chennai police have booked three people, including a history-sheeter, for killing Tamil Nadu BJP leader in full public view in Chennai on Tuesday (May 24) night.
On Tuesday night, Tamil Nadu BJP SC/ST Morcha South Chennai president Balachandran (30) was hacked to death by a three-member gang, while he was having tea near Chintadripet.
According to the police's preliminary investigation, three men — Pradeep, Sanjay and Kalaivanan — killed Balachandran over a past enmity between them.
Police said that Balachandran was on the Swamy Naickar Street when three men reached the spot on motorcycles. Balachandran started running, but the three men chased him and hacked him to death in full public view. The BJP leader suffered grievous injuries and was taken to Government General Hospital where the doctors declared him as brought dead.
Also read: TN BJP leaders say no need to learn Hindi, Tamil could be link language
The victim Balachandran was facing six police cases, including two attempt to murder cases. Pradeep, a local rowdy, is said to be facing 10 cases, including two murder cases and an attempt to murder case.
Rivalry between two groups
According to police, Balachandran and his relatives had filed a complaint against Pradeep for allegedly exhorting money from a garment shop in the locality. Pradeep was arrested in connection with the case and was had been released on bail a couple of days ago.
In an official statement, police claimed that the murder happened because of rivalry in business. "Knowing that there was a threat to his life, a Personal Security Officer (PSO) was provided to Balachandran. But, wilfully, he had gone to the tea shop without the PSO. The PSO was also suspended for carelessness in the duty," the statement read.
However, Balachandran's father, Viswanathan, alleged that his son was killed because he refused to admit rowdy elements in the party.
"There have been problems between my son, Sanjay and Pradeep. They wanted to join BJP but my son refused to admit them in the party because they were rowdies," Viswanathan told The Federal.
An autopsy was performed and the victim's body was handed over to his relatives. Police has strengthened security near Balachandran's residence as well as in the Chintadripet locality to avoid further clashes between the groups.
State govt blamed for incident
Of late, Chennai has witnessed a spate of heinous crimes like murder with questions are being raised about the deteriorating law and order situation in the Tamil Nadu capital.
Union minister of state in the ministry of information and broadcasting L Murugan and Tamil Nadu BJP president Annamalai condemned the incident and blamed the Tamil Nadu government for 'worsening' law and order in the state.
AIADMK leader Edappadi Palaniswami slammed chief minister MK Stalin for failing to improve the law-and-order situation in the state.
However, Greater Chennai police Commissioner Shankar Jiwal said: "It is not the first time a murder is happening in full public view. On the basis of this one incident, we cannot say that rowdy elements are not scared of the police. We are working as per law and Chennai is a peaceful city."
Jiwal further said that police would intensify action against rowdy elements in the city.
Also read: TN doesn't need dictation from Centre on fuel tax rebate: Palanivel Thiaga Rajan