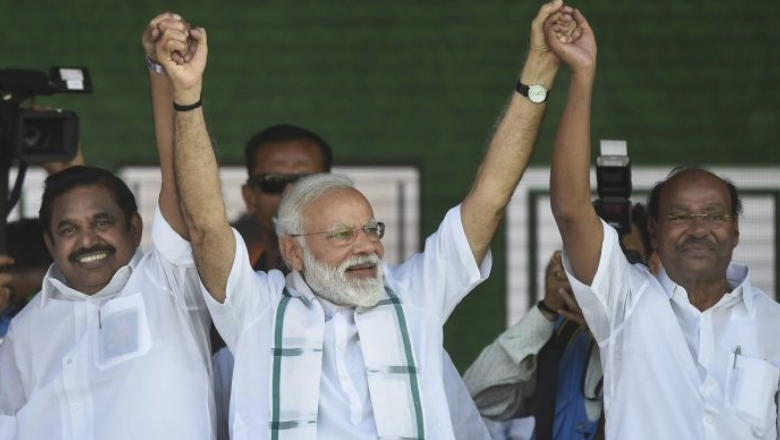 BJP eyes Rajya Sabha seat from Tamil Nadu; DMK, allies have a deal
The Dravida Munnetra Kazhagam (DMK) and All India Anna Dravida Munnetra Kazhagam (AIADMK) are scouting for candidates for the Rajya Sabha elections to be held from Tamil Nadu.
The DMK is clear about reserving seats for its allies. While one seat has been promised to Marumalarchi Dravida Munnetra Kazhagam (MDMK) chief Vaiko, the other has been assured to the Congress.
Although speculations are rife that former prime minister Dr Manmohan Singh could be sent to the Upper House from Tamil Nadu, there are also rumours that he may be elected from Rajasthan later, since a seat has become vacant due to the the death of BJP MP Madan Lal Saini on June 24.
For the third seat, DMK is expected to field Shanmugam of Labour Progressive Federation (LPF). The DMK has a tradition of sending LPF leaders to the RS in the past. The last leader from LPF who went to RS was C Kuppusamy. In 2016, LPF leaders did not get a chance. Hence, there are high chances for Shanmugam this time.
Also read: SC rejects Cong plea against separate Rajya Sabha bypolls in Gujarat
However, the former Nagapattinam MP, AKS Vijayan's name is also doing the rounds, with the probability increasing if Manmohan Singh is elected from Rajasthan.
On the other side, there is confusion in the AIADMK camp over the seats and sharing with allies. PMK's youth wing leader and former health minister Anbumani Ramadoss is expected to get a seat.
According to sources, the Bharatiya Janata Party is also pressuring the AIADMK leadership to allot a seat to them. However, it is doubtful whether AIADMK leaders will accept the demand, considering the disappointment among party functionaries over their obeisance to the former.
What aggravates AIADMK crisis is that there are several top leaders contending for the Rajya Sabha ticket. Former RS MP, V Maitreyan, ex-Lok Sabha deputy speaker M Thambidurai, Madhusoodhanan, Anwar Raajah, KP Munusamy, Manoj Pandian and Gokula Indira are among the few asking for entry into the Upper House.
If AIADMK gives two seats to allies, only one is left for its leaders.
Earlier External Affairs Minister S Jaishankar's name was also in the fray to be elected from Tamil Nadu. However, he formally joined BJP and filed his nomination to be elected from Gujarat.
The Rajya Sabha elections from Tamil Nadu will be held on July 18.