Temples are popping up in Tamil Nadu's Samathuvapurams. This is strange because Samathuvapurams are villages set up by the DMK government to establish a classless, casteless and secular society as per the vision of Tamil reformist and Dravidian icon Periyar EV Ramasamy.
In 2018, a Pillaiyar temple was constructed in Chenbagaramanputhur Samathuvapuram in Kanyakumari district, and earlier this year, another was built in Alamelupuram Samathuvapuram in Dharmapuri district. Residents of Kazhudur Samathuvapuram in Cuddalore district have now begun the construction of an Amman temple.
The move is being seen by Dravidian leaders as a ploy by the BJP — with tacit ignoring by the ruling AIADMK — to polarise villagers to get a political grounding in the state.
Advertisement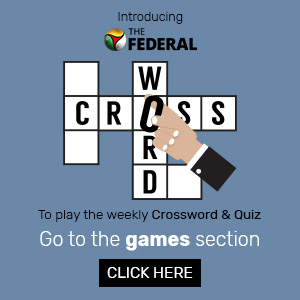 "We have written to the state government to take action against these temples. But the government has done nothing so far. It is acting like the BJP's 'B' team. The role of Hindutva groups instigating the people to indulge in such activities cannot be ruled out," said Kali Poongundran, deputy president, Dravidar Kazhagam.
"Samathuvapurams have been established on government land and any unauthorised construction on government land is illegal," he asserted, adding that if the government doesn't act, they would move the court.
What are Samathuvapurams
Samathuvapurams or Periyar Ninaivu Samathuvapurams were introduced by DMK govt in 1997
Under CM Karunanidhi, Adi Dravidar and Tribal Welfare department implemented the scheme
At least 2–3 Samathuvapurams were established in every district
Each Samathuvapuram had 100 pucca houses, built on 5 cent land each, with attached restrooms
Reservation followed: 40 houses for Dalits, 25 for backward classes, 25 for most backward classes, 10 for others
One resident of Kazhudur Samathuvapuram told The Federal the temple is a temporary shed-like structure and not a concrete one as many perceive. The construction of a concrete temple has been put on hold to prevent violence as there are people opposing the move.
"The Samathuvapuram is largely inhabited by Dalits. Some of the women from the community built a small structure and only women visit that temple," he said.
Between 1997 and 2001, around 145 Samathuvapurams were established. When the DMK came to power in 2006 again, the number of Samathuvapurams was raised to 240.
However, after the regime change in 2011, the successive AIADMK government did not show any interest in maintaining these Samathuvapurams or establishing new ones.
Corroding values
While each of the 240 Samathuvapurams has a statue of Periyar, construction of any other religious buildings was not permitted.
Every inhabitant of the Samathuvapuram was required to take an oath that he or she will not be involved in the construction of any buildings that are related to a particular caste or religion. Marriages and social functions can be solemnised in community halls built there.
But, the rules are no more followed by residents in many of these Samathuvapurams.
Villupuram MP Ravikumar, who demanded in Parliament that the Samathuvapuram scheme should be extended across the country, has said that building such temples will bring even more discrimination among the inhabitants of these villages.
"Even a burial ground is common for all in Samathuvapurams. Building temples will bring more discrimination.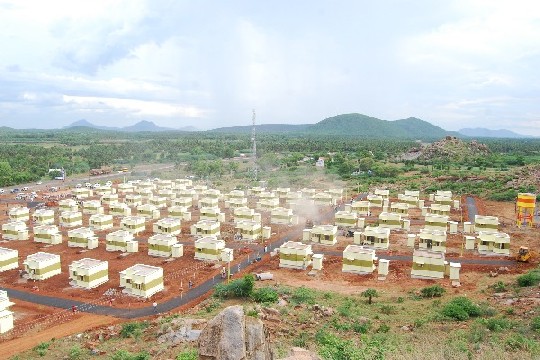 He, however noted that the construction of temples on government land is not new. "The state government shows leniency even if a temple is constructed on the premises of a court complex or government offices," he said.
Poet Salma, a DMK spokesperson who has served as a chairperson of state social welfare board, said the religious identities will also bring caste differences with them.
"Be it a temple, a mosque or a church, religious differences also bring in caste discrimination. Within no time, Hindutva groups will try to divide people in these villages on the basis of caste, as every caste in Tamil Nadu is usually designated a separate temple. That's is exactly why they engineered the construction of a temple in Chenpagaramanputhur Samathuvapuram of Kanyakumari district," she alleged.
Also read: Odisha seeks 5 lakh PMAY houses for cyclone-hit people
"Our party never spoke against people's faith in God, because it is their individual right. However, building temples in Samathuvapurams is condemnable," she said.
Arjun Sampath, founder, Hindu Makkal Katchi, has said that if the temples in Samathuvapurams are removed, they will protest by deleting the name of Periyar and naming them after Sri Ramanuja, a Vaishnavite leader of Bhakti movement.
Citing an old Tamil saying which says 'Don't stay in a village where there is no temple', he said, "People living in Samathuvapurams are not atheists. Also, those villages were not established by the DMK trust or DK trust. They were built on people's money."
Get breaking news and latest updates from India
and around the world on thefederal.com