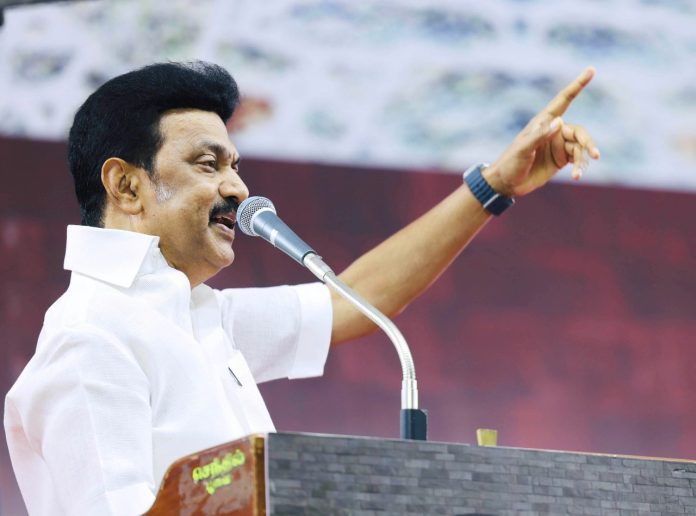 Tamil Nadu Chief Minister MK Stalin has attacked the ruling BJP at the Centre, saying those who backed the idea of a "single" concept vis-a-vis faith and language among others, were against social justice.
He also took a swipe at Governor RN Ravi over pending assent to key bills including the one seeking NEET exemption for Tamil Nadu and another one proposing a ban against online rummy.
Also read: Tamil Nadu: Raj Bhavan returns Bill banning online rummy
In his address at the 75th year celebrations of the Indian Union Muslim League (IUML) in Chennai on Friday (March 10), the DMK president fondly recalled the cordial relations his late father and former chief minister M Karunanidhi had with Muslims and their role in his life.
Social justice, brotherhood, equality have power to safeguard India: Stalin
"The three concepts of social justice, brotherhood, and equality alone had the power to safeguard India," he said.
"Those who want to change India into a country of a single concept – one faith, one language, one culture, one food, one election and one exam – are against social justice," he said in an apparent jibe at the BJP.
"They were also against brotherhood and equality," he added.
'Not allowing us to prevent suicides due to rummy and NEET'
Hitting out at Governor Ravi, Stalin said there was no approval given even for a ban on online rummy, the Bill which the Raj Bhavan returned to the government recently for reconsideration.
"After four months, (he) is saying the state government doesn't have the authority to enact such a legislation. Is he Governor of a state that has no authority to enact even such a simple law?" Stalin asked.
The NEET exemption bill had been lying with him for long before being sent to the President, he added.
Also read: TN Governor has referred anti-NEET bill for Presidential assent: Stalin
However, central legislations like the now-scrapped farm laws that "were against farmers" and "the anti-minority CAA" were quickly passed (in the Parliament by the BJP government).
"They will shatter the medical dreams of the poor by bringing in NEET; will impose Hindi. Will carry on a campaign of hatred against members of other faiths. But they are not allowing us to prevent loss of lives (suicides) due to rummy and entrance exam (NEET)," he added.
Calls for Opposition unity in 2024 Lok Sabha polls
"The 2024 Lok Sabha polls should be the one to put a "full stop" to all these and unity was the need of the hour to achieve that," Stalin said.
Earlier this month also, Stalin had batted for opposition unity to jointly work towards dislodging the BJP regime at the centre in 2024.
(With agency inputs)