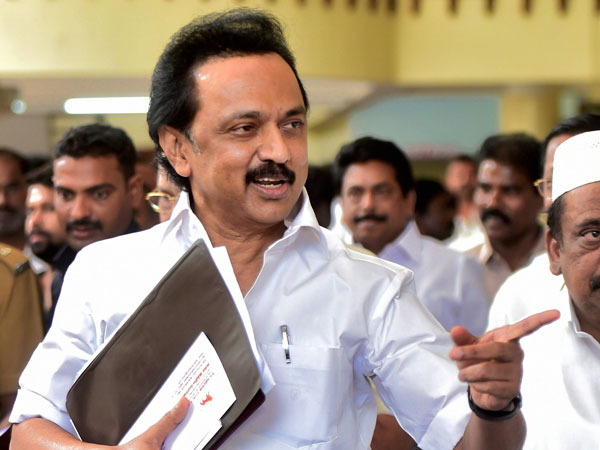 Telangana Chief Minister K Chandrasekhar Rao met DMK leader MK Stalin at his Alwarpet residence in Chennai on Monday evening as part of the former's ongoing efforts to create a federal front.
DMK sources said the meeting went on for about an hour. Congress sources said they had asked DMK to urge KCR to support the party [Congress] during the meeting on May 13, which the DMK did, according to sources in that party. Stalin apart, DMK treasurer Durai Murugan and principal secretary TR Baalu too attended the meeting. This is the second time KCR is meeting Stalin in Chennai in the past one year. The last meeting with Stalin was in April 2018.
Earlier, the DMK leader had denied KCR an audience citing a busy campaign schedule ahead of the by-polls to the four assembly constituencies scheduled for May 19. This had come in for criticism, especially when KCR put forth the idea of 'a PM from the south.'
The present meeting could be indicative of the Congress asking the DMK to use the opportunity to convince KCR to support the Congress-led alliance. The DMK had earlier stated that the party would not join the federal front as it was already in an alliance with the Congress.
The Congress had earlier criticized KCR as the 'B team' of the BJP and Rahul criticized KCR as 'Chotta Modi.' KCR has been holding meetings with regional leaders to form a non-BJP and non-Congress federal front. A week ago, KCR had met Kerala's CPM chief minister Pinarayi Vijayan, the latter stating that the meeting was significant.
In the coming days, KCR is likely to meet JD(S) leader and Karnataka Chief Minister HD Kumaraswamy and West Bengal Chief Minister Mamata Banerjee. Reacting to the meeting, Tamil Nadu fisheries minister D Jayakumar said the DMK had even held secret talks with the BJP. "The DMK held talks with the BJP and sought five cabinet minister posts to support the latter party," Jayakumar told Puthiya Thalaimurai television channel. He also said the DMK was capable of holding talks with three parties at a time.
TN Minister for Dairy Development Rajendra Balaji slammed the DMK for holding a meeting with KCR. He termed it DMK's betrayal of the Congress.