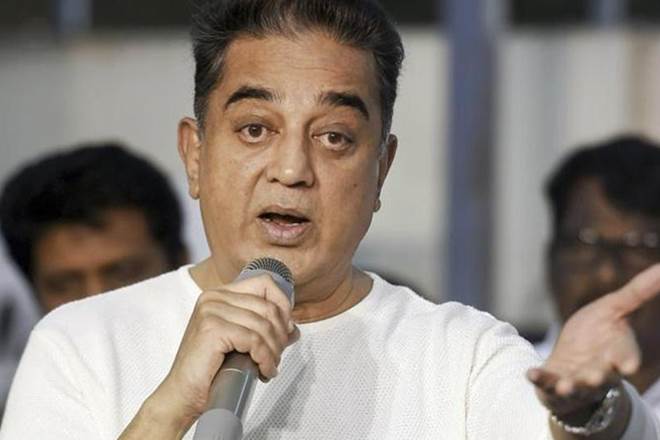 Actor and Makkal Needhi Maiam (MNM) President Kamal Haasan on Monday (June 29) demanded murder charges be filed against those accussed in the custodial deaths of the father-son duo in Tamil Nadu's Tuticorin on June 22.
After visiting the family of the deceased on Sunday (June 28), the MNM chief said, "A government and chief minister who blindly support police murders are also prime accused," while demanding Tamil Nadu Chief Minister Edappadi K Palaniswami to slap murder charges on the accussed.
"Don't shirk your responsibility by handing over the case to the CBI (Central Bureau of Investigation). Uphold justice. Don't wait for people to forget and don't add this to the list of cases in cold storage," Kamal Haasan tweeted on Monday morning.
CBI விசாரணைக்காக மாற்றப்பட்டு, கிடப்பில் இருக்கும் தூத்துக்குடி துப்பாக்கிச் சூடு, குட்கா ஊழல் போன்ற வழக்குகளின் வரிசையில் இதையும் சேர்த்து,

மக்கள் மறந்து விடுவார்கள் என காத்திராமல், நீதியைக் காத்திடுங்கள்.

காலம் தாழ்த்தப்பட்ட நீதி, அநீதி.

(2/2)

— Kamal Haasan (@ikamalhaasan) June 29, 2020
He compared the case with the deaths of 13 people during police firing at an anti-Sterlite protest in Tuticorin two years ago that reached a dead end even after being handed over to the CBI.
On June 19, Jayaraj (59) and his son Emmanuel Bennicks (31) were arrested after they allegedly had an altercation with Sathankulam police. While Bennicks died at Kovilpatti Government Hospital on the night of June 22 after complaining of chest pain, Jayaraj died the next morning at the same hospital after suffering from fever.
Several city-based activities have taken to Twitter to oppose the state government's decision to hand the case to CBI.
Related news: Sexual torture inflicted on father-son in TN police custody: Witnesses
"First the state government (s)ought to alter the suspicious death case into a murder case. Otherwise what case is there to transfer?" Henry Tiphagne, the Executive Director of People's Watch, a human rights watchdog, said, adding that a court-monitored SIT probe headed by a senior police officer will ensure speedy justice.
Meanwhile, the opposition DMK has threatened to move the court seeking a CBI probe if the "spineless" state government does not investigate the case properly.
"The Chief Minister, who heads the police, is afraid to take action against erring officials. NHRC (National Human Rights Commission) guidelines for a probe by a premier agency in the state haven't been followed. This is how they dilute a case," A Saravanan, the party's spokesperson, said.
Related news: TN custodial death case stirs war of words among political parties