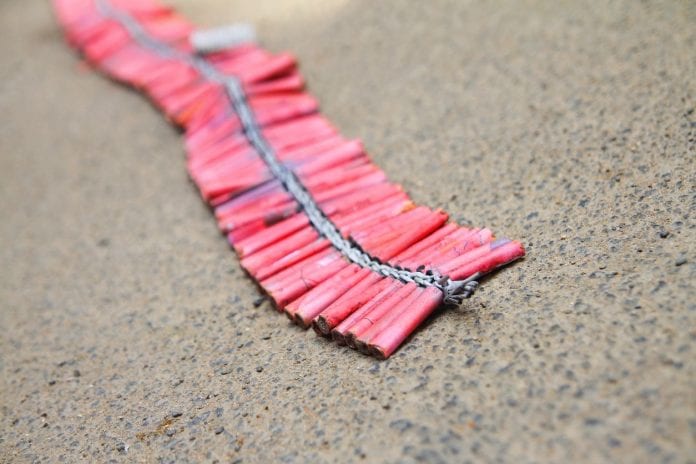 Diwali's just a week away. But, despite the Supreme Court's ban on conventional firecrackers and pitch to switch to green crackers to help sustain the livelihood of people dependent on the industry, sources in Petroleum and Explosives Safety Organisation (PESO), the body entrusted to approve the environment-friendly firecrackers, said 98 per cent of those produced in Tamil Nadu's Sivakasi were not green.
In October 2018, the apex court banned the manufacturing and sale of conventional firecrackers containing barium and nitrate as well as chain crackers.
While banning the crackers that emit high particulate matter, the apex court accepted the Union government's suggestion and directed all fireworks manufacturers to produce green crackers without the use of barium salts.
The apex court also said that the formula for manufacturing green crackers would be derived by the National Environmental Engineering Institute (NEERI) which in turn will be approved by PESO (under the Ministry of Commerce and Industry).
However, an official in PESO on conditions of anonymity told The Federal that they have not approved more than five products (green crackers) in Sivakasi even if it has been a year since the verdict.
"The new formula has to be tested for a minimum period of one year for frictional sensitivity. Any reaction in the firecrackers made during transportation also needs to be tested. Their shelf life also has to be tested since the firecrackers manufactured here are often stocked, even up to a year," the official said.
The official said as the five products in question, were recently approved, their production in large quantities to cater to the demand in Tamil Nadu ahead of Diwali, in such a short span is not possible.
Manufactures disagree
But, a section of fireworks manufacturers claims that signing an agreement with NEERI itself is enough to show that they are manufacturing green crackers, although agreeing that a larger section of small scale manufacturers are still completely unaware of green crackers.
Tamil Nadu Fireworks and Amorces Manufacturers Association (TNFAMA) president P Ganesan said that they manufactured only the green crackers that were approved by NEERI.
"Scientists at CSIR-NEERI have come out with a formulation, in which they have excluded barium salts and included an additive substance. If we go by NEERI's formulation, the emission of particulate matters will be reduced by 20-30 per cent. So, we have entered into a non-disclosure agreement with NEERI and have manufactured the products only based on the formulation," he claimed.
Varying versions
However, officials in PESO said that those formulations were not approved by the organisation.
"After Supreme Court banned barium nitrate (used to manufacture 80 per cent of the crackers), a few fireworks manufacturers are now attempting to manufacture crackers with high percentage of potassium nitrate and an additive substance suggested by CSIR-NEERI. However, the formulation was not approved and it is illegal to manufacture in bulk without the PESO's approval," the official said.
Ganesan also claimed that a group of 28 companies – consisting of 340 factories – in Tamil Nadu has signed an agreement with the CSIR-NEERI.
But, according to sources in NEERI, only 303 manufacturers across the country have registered with the NEERI, of which 264 manufactures were from Sivakasi in Tamil Nadu.
Similarly, only about 230 fireworks manufacturers have signed the memorandum of understanding for using the formulations developed by CSIR-NEERI, of which only 165 have signed a non-disclosure agreement.
In Sivakasi, under the umbrella of TNFAMA alone, there are about 1,070 factories. In total, there are more than 2,000 firecracker manufacturing units in and around Sivakasi including small traders.
Expectation vs reality
Many manufacturers, on the other hand, said it will take more time than expected for green crackers to replace conventional crackers in the market.
They say even the Union Minister for Science and Technology and Each Sciences Harsh Vardhan launched green crackers, formulated by NEERI, on October 5 this year. He said green crackers would have a green logo to differentiate them from the banned ones; as well as a QR code.
However, by the time he launched, all the conventional crackers that were manufactured were transported across the country.
Managing director of Kaliswari Firework AP Selvaraj affirmed apprehensions that it would be indeed hard to find green crackers in the market this year. "People could find only one or two of such crackers and the rest would be conventional ones. Since the testing of green crackers and their manufacturing is a time-consuming process, we couldn't manufacture it this year," he said.
Absence of checks
What has irked environmentalists is the lack of a mechanism to check the manufacturing and use of conventional crackers, despite the Supreme Court order.
Although the Supreme Court had designated the police to ensure it, Tamil Nadu police say they have not received any such orders. Approvals were given to retailers following the old procedure including checking the place for fire safety and other licence to sell firecrackers.
Lessons from history make them wary
This is not the first time Sivakasi is dealing with a ban.
The first ban on the manufacture and sale of the firecrackers was brought in 1957 by the Union government under the leadership of Jawaharlal Nehru. The ban was imposed after the fireworks consignments transported from Sivakasi, exploded in three railway stations – Katpadi in Tamil Nadu, Asansol in West Bengal and Kanpur in Uttar Pradesh.
Old timers say the then manufacturers had approached the government asking for suggestions to produce safe firecrackers. "The government in return laid down rules. The formula for firecrackers that artisans are using now was given by the then government, and not formulated by them," said an old manufacturer of firecrackers in Sivakasi.
"If the government can give us a clear idea on proven formulations to produce green crackers and assure uninterrupted supply of raw materials for it, we are ready to manufacture green crackers. Even if the cost of production is high, it will not affect us much, since it would be anyway passed on to the customers," said Sanjeevi Kumar, a cottage industry manufacturer in Sivakasi.
He also asserted that like him, most of the firework manufacturers in Sivakasi have no clue about the green crackers.