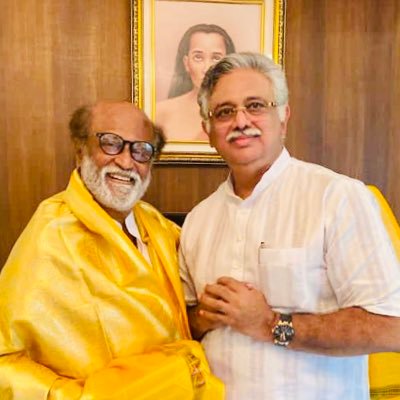 In a new twist in Tamil Nadu's political arena, which is already tense over the return of VK Sasikala, superstar Rajnikanth's aide, Arjunamurthy Ra has decided to throw his hat into the ring.
Arjunamurthy, who was christened as the chief co-ordinator of Rajnikanth's party, which had aborted before take-off, has decided to launch a new party and contest all the 234 constituencies in the upcoming assembly elections.
Likening his party to a "Tesla car", he said the other parties are "like old cars" and only the drivers are replaced every now and then.
"We will be like Tesla with a new car and a new driver. Modern science is inevitable today, we have to introduce it into politics," Rajnikanth's former political associate told reporters on Friday. He is all set to launch his new political party next week, he announced.
Also read: Rajnikanth denies writing 'leaked letter', says info on health condition true
"I am going to start a party for those who want change in Tamil Nadu," he declared, adding change will unfold in 2021.
According to him, out of the six crore voters in the state, more than four crores are aged below 40 years and they seek political and social change. The upsurge that was unleashed by the people of Tamil Nadu during the Jallikattu protest will be seen all over again, he pointed out.
His political party will not just be an alternative to the state's erstwhile two regional parties, DMK and AIADMK, it will also be a force against the BJP, said the former head of BJP's intellectual wing. Stating that his party will follow the path of "inclusiveness", he added that Periyar's ideology has not been taken to the people in all these years.
The Periyar ideology that the Dravidian parties had survived on for 50 years does not exist anymore, he said. Newspaper reports quoted him as saying, "If they had continued on that (Periyar ideology) path, there wouldn't be a need for them to carry Vel."
Also read: DMK's Stalin outlines 'Mission 200' for 2021 Tamil Nadu elections
However, Arjunamurthy has clarified that he will not hurt the feelings of thalaivar Rajnikanth, who he values and respects, with his activities. He will not use his name, image or his dialogues anywhere in his party campaigns but he will make Rajnikanth's dreams for change in Tamil Nadu come true.
He invited Rajinikanth fans, who believe in his capability and understand his vision, to join his party. "This is an invite for them because Rajinikanth, himself, said that his fans can join any party as they wish," he said.