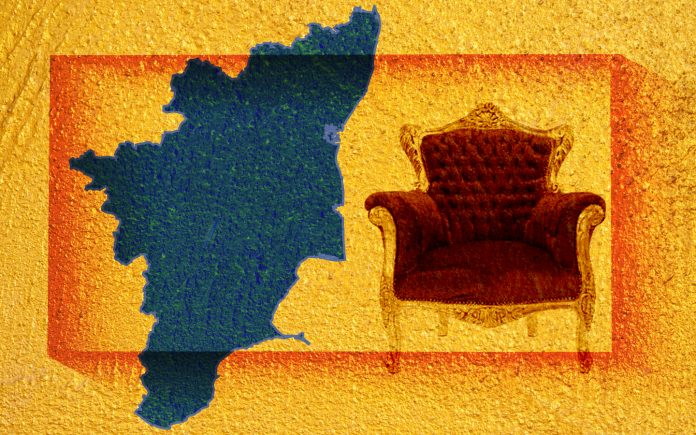 The candidates' lists of major parties in Tamil Nadu are out. And the stage has been set for what appears to be an election that will decide the future course of state politics. What is at stake are the prospects of the two main Dravidian parties that lost their top leaders recently.
The 2019 Lok Sabha elections and the bypolls happening to the Assembly constituencies are a make-or-break deal for both the parties. The DMK is going to the polls with MK Stalin at the helm for the first time, figuratively and practically. The AIADMK is fighting with its back to the wall after the death of Jayalalithaa and a split in the organisation. A big defeat could mean the end of the road for both.
Purely in terms of arithmetic, the AIADMK-led alliance has the upper hand. The NDA, contesting independently, polled some 18% of the votes in 2014. The AIADMK bagged 45%. Together, they could theoretically poll a massive, unprecedented number of votes in this election.
But AIADMK's supremo J Jayalalithaa is no more and it is open to speculation what would happen to the party's vote share. In the past, when one of the Kazhagams was on a low phase, voters would shift to the other. But DMK is without M Karunanidhi — the towering leader of the party for five decades. If the AIADMK voters desert the party, will they take to Karunanidhi's son and successor, MK Stalin, or support the AMMK headed TTV Dhinakaran, nephew of Sasikala?
The AIADMK, which bagged 37 out of the 39 constituencies in 2014, has fielded candidates only in three constituencies southern districts, leaving the field open to its allies. This may well be a recognition that the party is afraid of taking on Dhinakaran and come out looking weaker. Dhinakaran is known to command the loyalty of the numerous thevar caste group in southern districts.
Parties have chosen their candidates based on their opponents. For instance, State BJP president is taking on DMK's K Kanimozhi in Tuticorin. In Theni, where OPS has fielded his son P Ravindranath Kumar, Dhinakaran has fielded his right hand man, Thanga Thamizh Selvan.
In Sivaganga, where P Chidambaram's son Karti Chidambaram is likely to contest if Rahul Gandhi doesn't, BJP has fielded H Raja, a vituperative Hindutvaite not afraid to rubbish Dravidian leaders and their belief systems. In Coimbatore, CPM has been pitted against the BJP. In Villupuram, a reserved constituency, vanniar-dominated PMK is taking on dalit party, VCK.
Caste, as usual, has been a key factor in candidate selection. For instance, vanniar-dominated PMK has been given Dharmapuri, Dindigul, Villupuram, Sriperumbudur, Cuddalore and Chennai Central. Out of these, four are known vanniar strongholds.
Both the DMK and AIADMK lists have featured the second generation of prominent leaders. Film star Vijayakanth's brother-in-law L K Sudhish is pitted against Gowtham Sigamani of the DMK in Kallakurichi.